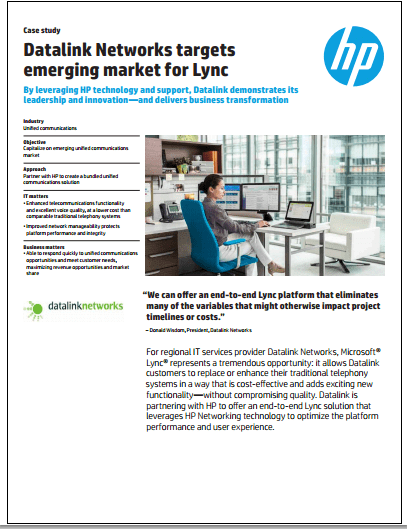 Several weeks ago, we highlighted a Hewlett Packard case study of our client, Carmichael International, which details how we saved their Southern California company tens of thousands of dollars: by upgrading their old network utilizing Cisco routers, to a modern network including Microsoft Lync and HP Networking components.
And now, we're proud to announce that HP has published another case study focused on Datalink Networks – only this time, the subject is US… and how our company has led the charge in introducing Microsoft Lync to our customers throughout Southern California.
"HP Networking and servers allow us to offer a bundled Lync solution. We can offer an end-to-end Lync platform that eliminates many of the variables that might otherwise impact Lync performance," says Datalink Networks President Don Wisdom.
Datalink Networks has been designing and implementing unified communications and collaboration solutions since 2008. Wisdom realized the potential of Microsoft's unified communications and collaboration solution early on.
"We started to hear buzz about Lync and we realized something important was happening. The telecommunications industry hadn't changed much in thirty years," he says. "Even with voice over IP, it's the same old telephony. But Lync was truly different. We knew, right away, that we needed to get in on the ground floor."
Our Lync engineers have helped organizations large and small who choose Lync for different reasons: Some are migrating from old PBX systems to VoIP – while others are tired of paying for third-party videoconferencing. And other clients are ready to up their customer service game with full featured modern contact centers that can support a high volume of non-voice transactions, great analytics, web chat, social media and SMS.