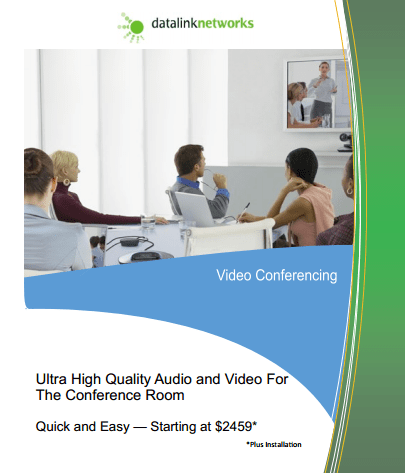 At Datalink Networks we're all "Lync Evangelists" — which comes naturally to us, as we enjoy all of the features of Microsoft Lync in our own organization on a daily basis. From IM Presence to screen-shares to simply talking on the phone, Lync has revolutionized the way we conduct our own business.
But frankly, the one feature of Lync that has gotten a little neglected in our office has been the videoconferencing feature, mainly because we did not have a truly high-quality video system. That's all changed thanks to our friends at Logitech, who continue to amaze us by releasing cutting-edge peripherals at price points that seem to be unimaginable.
We think Logitech's CC-3000e High Definition Audio and Video solution for Lync and Jabber is revolutionary for its affordable Enterprise capabilities, which include:
1080p HD video
ZEISS® glass lens with autofocus, and 10x lossless zoom, which lets you see and interact with everyone at the table, or zero in on close-ups
The compact console contains omni-directional, full-duplex mics with acoustic echo cancellation and noise cancelling, which allows you to hold your conference despite everything else that's going on in your busy office environment.
We currently have this system installed in our own conference room and the video quality is one of the clearest I have seen. The 1080p HD camera captures tremendous detail, but its best feature is its ability to pan, tilt and zoom. You can control the action with a remote, which is great, but the best part is if you download the plug-in for Lync 2013 it allows you to control the PTZ from your computer. The plug-in also allows you to control the camera from another location, remotely.
As great as the Logitech 3000e is as a piece of technology, we think our clients are really going to love its affordability: We've put together a package that also includes a HD flat-screen monitor and tiny form factor PC and have priced it at just $2549 (plus the cost of installation). Compare that with competing systems: We had a potential client tell us it cost him around $15k (with installation) for his conference system to have the same features. Download our fact sheet or call us directly at 1-877-487-3783 and we'll hook you up with an affordable solution to your conferencing needs.