Mother Nature gave Southern California an unwelcome December surprise last week, in the form of strong, dry, Santa Ana winds that fueled several wildfires throughout the region - including one that broke out just a couple of miles from our Santa Clarita offices.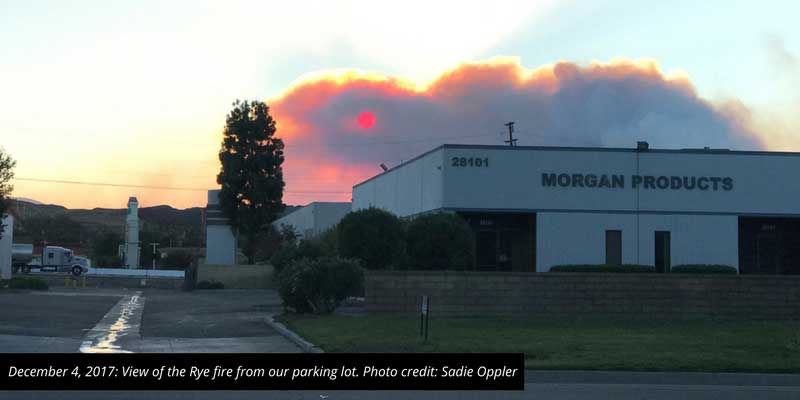 We were lucky. The Rye fire is expected to be fully contained by the end of this week. And while we temporarily lost power during the early hours of the blaze, we suffered no actual damage. In the meantime, firefighters are still battling the massive Thomas fire threatening communities up in Santa Barbara -- which is now one of the most destructive events in California history.
None of us is immune to the threat of a disaster, whether it is an act of God like a wildfire -- or a man made fiasco, like ransomware. Either way, you need to be prepared. Your business depends on it.
Arming Yourself Against a Fire
There are approximately 100,000 commercial building fires in the U.S. per year, according to the National Fire Protection Association. Those at highest risk include manufacturing facilities, as well as offices located above or in proximity to restaurants because cooking is a primary cause of non-residential structure fires, just as it is in homes. But as we were reminded this week, dry brush in dry weather can up the fire odds for all of us.
Even a relatively small fire can be very disruptive, resulting in complete flooding of computers and telephone systems as your building's sprinkler systems kick in and firefighters seek to extinguish the blaze.
And a large fire, can force your business to have to relocate all operations temporarily or permanently.
Here are some considerations you should make in the event of a fire that disrupts your business operations:
Have arrangements in place for re-routing incoming calls to an alternative site and/or to employees' mobile phones.
Prepare an emergency posting for the company website that can be activated immediately and progressively as the consequences of the event unfold.
Business Continuity
You should have a plan in place for keeping your employees productive while your businesses recovers from a fire incident. Business Continuity plans should include:
Arrangements in advance with a nearby shared/furnished office space provider, hotel, college, or other facility for an immediate/temporary operations command center.
Next-day workspace provisioning in another company facility, emergency failover "cold site," or at home personal desktops/laptops with appropriate call forwarding.
Internal communications for keeping employees updated on resource availability, recovery status, etc.
Any necessary third-party contracting for shipping/receiving, mail processing, duplicating, etc.
Do prepare an emergency posting for the company website that can be activated immediately and progressively as the consequences of the event unfold.
Process continuity
Because most building fires and flooding are highly localized, they typically only disrupt processes that touch a single company location. Business continuity plans therefore need to provide for alternative locations and means to perform actions such as:
Answering phones
Processing orders
Issuing invoices
Signing checks
Filing reports required by regulatory mandates
Your business policy should cover the expenses above, in addition to the physical damage directly caused by the fire. You may also seek policy provisions that address work done from home or other locations while your facility is under repair (and/or a new location is secured) as well as business losses that may occur despite best-effort BC planning and execution.
Keeping your files, folders, and data protected is critical. So is having the ability to quickly restore said data in case a disaster strikes. See why back-up solutions from Datto are like having your very own time machine. Download the infographic now.