Lenovo unveiled their latest models and initiatives for the coming year at last month's Accelerate 2015 conference, in Las Vegas, Nevada - and I was there, representing Datalink Networks.
Like all big conferences, there were a lot of parties and glitz on the crowded exhibit floor, and I had the thrill of meeting Shark Tank star Robert Herjavec... but the gang at Lenovo put together some meaty sessions showcasing new products and their vision for the coming year.
Not Just a PC Company Any More
Lenovo President Aymar de Lencquesaing kicked the event off with the announcement that the company is shooting for a whopping 30% hike in their server business. And since acquiring IBM's x86 server line last year, Lenovo has a pretty good shot at meeting that goal - they're now the #3 server manufacturer in the United States.
"Lenovo now has an entire line of enterprise products that scale from file-and-print servers all the way up to converged infrastructure," said North American product manager Don Frame.
Lenovo is focused on attacking new markets, particularly healthcare, where they plan to innovate with new products made specifically for the healthcare segment. Watch this space!
Innovations in EdTech
Another very important topic at Accelerate was the education market, which is growing by leaps and bounds thanks to funding for initiatives like Common Core.
Lenovo's big product unveil for this market was the one-two punch of its new ThinkCentre Chromebox and Tiny-in-One workstation, which integrate together - at a price that won't break the school district budget. They're "PB&J certified," according to Lenovo Director of Worldwide Product Marketing Steve Gilbert.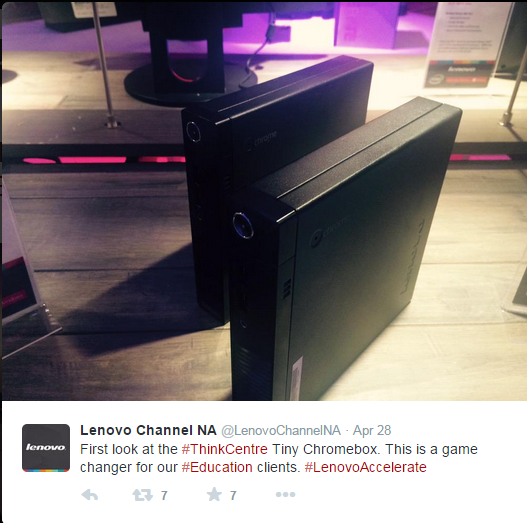 But as exciting as that announcement was, the product that has had the most explosive growth over the last four quarters is the ThinkPad 11e laptop, and with this success they have just introduced the 4th generation ThinkPad EDU series.
This education ThinkPad has made many upgrades to fit even better in the education space than they have already have, including:
Rubber bumpers
60% reduced gap keyboard
Anchored key caps.
Lenovo has also teamed up with Stoneware to create an education product called LanSchool, which enables teachers to monitor classroom collaboration on their students' laptops.
Windows Server 2003 End of Support
If there was an overarching theme to Accelerate, it was the imminent crisis facing the 24 million US businesses that have ignored the warning that support is ending for Windows Server 2003.
At Microsoft's session, they make the case for upgrading to Windows Server 2012 R2:
It is a comprehensive virtualization platform
cost savings
increased efficiencies
support for a modern work style.
Swimming with Sharks
As I mentioned in the intro to this post, the most exciting thing for me at Accelerate was the opportunity to see Shark Tank star Robert Herjavec speak at the closing session. As you may know, Herjavec is a multi-millionaire whose fortune was made largely in IT securities. He talked about the "Pace of Change" in the technology world.
"If you are not comfortable with change in the tech world, you will crumble," he said.
This rang true to me. Change is going to happen, so embracing it saves businesses a lot of time and anguish.
An Amazing Experience
In conclusion, Accelerate 2015 was an amazing experience. I learned a lot about Lenovo, the business world, and how to ensure success in IT.
Lenovo will be on hand to display some of their hottest new products at our next Southern California events free to IT decision makers: May 26 in Los Angeles and May 28 in Orange County. .