Keeping up with the complexities of modern IT infrastructure is an ongoing and demanding task for in-house staff. Unfortunately, just maintaining your current environment is not enough to prevent data breaches.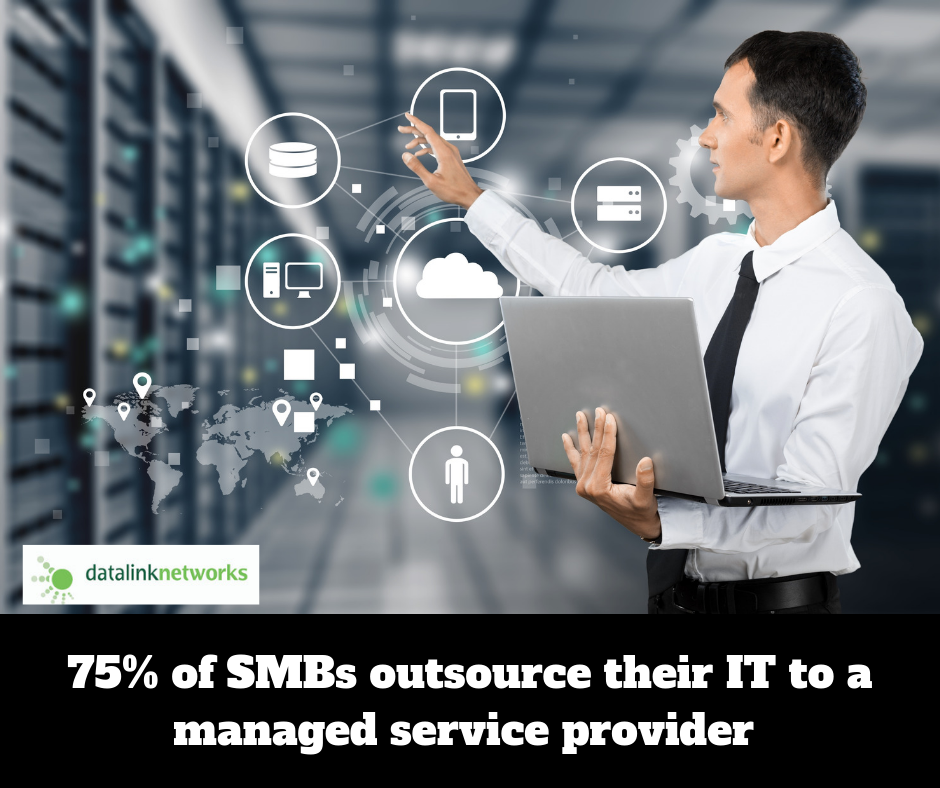 One of our newest clients just signed an engineering contract with us because their IT staff determined that their current tasks had spread them out too thin. Those tasks include sustaining their security posture, developing ongoing projects and planning for future fool-proofing.
If this sounds familiar, you are not alone. Many small-to-medium-sized businesses (SMBs) don't have the resources to fully support all of their IT infrastructure needs. According to tech association CompTIA, nearly 75 percent of SMBs outsource their IT projects to a manage service provider (MSP).
Many of those never ending tasks performed by in-house support take priority over the bigger picture of IT security and monitoring. This leaves considerable holes in the team's ability to be proactive and up-to-date.
This is the most common reason our clients turn to us for managed services— to efficiently support their IT teams, tighten their security, and add to their companies' bottom line. Your staff can benefit from MSP services performed by our experienced engineers, as well as account management by a dedicated account team. These services include, but are not limited to:
-24/7 engineering response
-Network and security monitoring
-Proactive management
-Regular security scans and updates
-End user help desk
-Regular account review meetings
Allocating a portion of your IT budget to managed services expands your access to consultants with advanced enterprise technology certifications. MSPs like Datalink Networks can offer well-rounded and educated suggestions to improve the performance and overall health of your systems. Our security assessments and evaluations are tools your IT team can utilize to plan strategy for systems that will keep up with new technology and the growth of your business.
We can also provide your team with both engineering and sales support. Datalink Networks partners with leaders like Microsoft, Datto, HPE Aruba, Barracuda Networks and more. Our wide range of vendor relationships in the IT community give us access the knowledge to advise your staff in the most beneficial way, at no additional cost.
People often assume that the national online retailers can provide higher discounts on IT hardware and software than smaller regional MSPs. In reality, this is a myth that is easy to dispel. The pricing power lies with the product manufacturers. The first reseller to request a quote receives a pricing advantage called "deal registration." This gives that reseller the most competitive pricing to offer to end users like you.
As a reseller MSP, Datalink Networks offers our clients sales, support, and the most competitive pricing for IT products. Our managed services can add value to your IT department by providing expert security advice, sharing the workload of your IT staff, and saving you money on software and hardware you may be already purchasing.
See What Datalink Networks Can Do For You
We offer a complimentary security assessment to uncover just how vulnerable business networks can be without the necessary maintenance. This is a great tool to create a security plan moving forward. A baseline network assessment enables your MSP to fully understand your infrastructure to recommend products and services most beneficial to your current IT needs.
Starting with our security assessment will allow us to understand your infrastructure and provide immediate support for your team. Let's get started.