We've been obsessed with the planning for our EdTech Summit, two weeks from today at the Sheraton Universal here in Los Angeles. Open to any local school employee, it will be an exciting day of exploring the challenges around advances in K12 technology.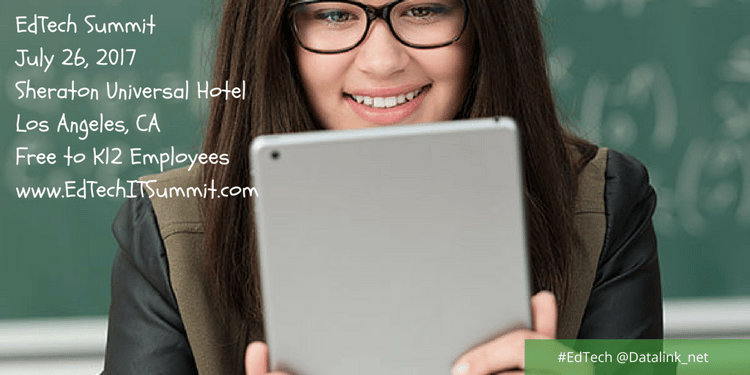 We know that some of our attendees are most interested in the focus on curriculum, and the Connected Classroom, so Fran Mauney, of Intel Education, will open with a keynote that will cover current trends and where EdTech is going. Our team has been laser-focused on security lately, so we've landed experts from Fortinet and Datto to address the issues that have made schools ripe targets for hacking. And we understand that budgeting is always an issue for cash-strapped schools, so Mike Fleetwood will be on hand to talk about ESSA, ERate, and other resources and strategies for keeping pace with technological advances.
But we also know that a certain cohort of our audience just wants to get a chance to "play with the toys." That's why our events usually include a "Vendor Pavilion" featuring some of the latest offerings from the big technology companies you already know, plus a few that may be new to you.
Our EdTech Vendor Pavilion will feature education products from both Microsoft and Google, as well as networking solutions from Hewlett Packard Enterprise, Aruba Networks, and Huawei. Lenovo will also be there with some of their hottest laptops and Chromebooks for the school market. And in addition to Fortinet and Datto, we've invited Malwarebytes to show you how to keep your student data secure.
We think you'll also enjoy getting up close and personal with these products and services:
Promethean - Promethean's Interactive flat panels, walls, whiteboards, and other delivery systems - especially when paired with their Classflow software solutions - are designed to energize your learning environment and maximize the return on classroom technology.
Blocksi - Cloud, web and YouTube filtering for G Suite-managed Chromebooks and Chrome clients, featuring an Administrator, Teacher, and Parent Dashboards that makes it simple to set filtering policies and collect analytics on G Suite-managed users, organizational units, Chromebooks and Chrome clients.
Blocksi Manager provides trend analysis, web and YouTube analytics per user. This system can even help administrators monitor cyberbullying and improper behavior through content analysis.
Soundtrap - An online learning tool that enables teachers to follow the STEAM curriculum through music and podcasts. Its simple interface, designed to suit students of all levels, fosters a collaborative environment in which students develop their creative and communication skills.
StarTech.com - Did you know there are over 200 types of connector types and technologies used in IT solutions? Ever have trouble finding the right one? From the latest technology to legacy products, StarTech.com is your trusted advisor for connectivity, making it easy to identify, find, get and use the connectivity parts you need.
C2G stands for Cables To Go, and they want to be your go-to place for classroom connectivity. They note that simplifying connectivity makes collaborative learning an easier experience for teachers and students. From ceiling speakers to projector mounts to the cabling and covers necessary to make it all work invisibly, Cables To Go will help you connect.
We believe the EdTech Summit will be a valuable resource for school IT pros, teachers, and administrators as they gear up for the 2017-18 school year. Check out the full agenda here.