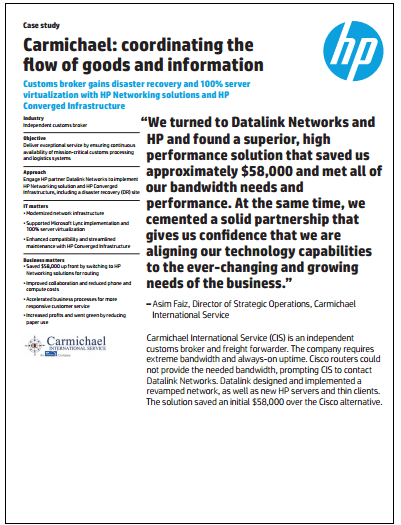 When Enrico Salvo founded Carmichael International Service (CIS) in the early 1960s's, the Port of Los Angeles was well on its way to becoming one of the nation's busiest seaports. Salvo – along with his two sons – is still at the helm of the customs brokerage company he founded 53 years ago, managing 245 employees in 13 offices around the United States.
As the company grew, so did their data requirements.
"We reached out to Datalink Networks to completely redesign the whole network," says CIS co-President Vincent Salvo.
Network Redesign Utilized Microsoft HyperV Virtualization
Datalink Networks responded to CIS's request with a design that utilized HP Blades and HP storage servers, and they implemented virtualization with Microsoft HyperV. The new network design gave the company the ability to bring up servers virtually without investing in additional hardware — and saved them close to $60,000 on routers alone.
"As our needs are growing, we're able to spin up new servers basically on the fly when needed," says Salvo.
Cost Savings Benefits of Modernized IT Infrastructure
Carmichael International is now enjoying the benefits of a modernized IT infrastructure, better collaboration among its employees around the country, a disaster recovery site and continued cost savings. Asim Faiz, Carmichael's Director of Strategic Operations compares their old Mitel PBX system with the UC&C they've achieved with their new installation of Microsoft Lync:
"Managing [the old system] was a nightmare. We had these PBXes in every location, that was hard to maintain, there's no centralized programming, so we had to look at an option that was up-to-date, 21st century, and we wanted to bring a platform that could actually use voice, data, text, sharing, IT support – all in one, and Lync came out on top again. Microsoft Lync was one platform that gave us all and with the hardware we have in place today, and with Lync deployment, it was the right choice."
Faiz says that prior to the implementation of Microsoft Lync, CIS spent tens of thousands of dollars each year on communication and conferencing services. "After looking at the Lync option and at the technology Lync can use as far as SIP trunking, the numbers came out that we were going to save $12-13,000 a month in savings," he says.
Faiz says the company first started implementing Microsoft Lync as a tool for IT support, using the desktop sharing application. But it did not take long to realize the advantages of Lync's other functions, including texting, voice and video. Today, CIS employees are utilizing voice, video and chat features throughout the company.
"Not only we are communicating internally but we are federating with our customers and vendors on the Lync platform. It's awesome," concludes Faiz.
Find out what Microsoft Lync can do for YOUR communication and collaboration needs at one of our Lync events in Southern California this month:
November 19 – Morton's Burbank
November 20 – Morton's Santa Ana.