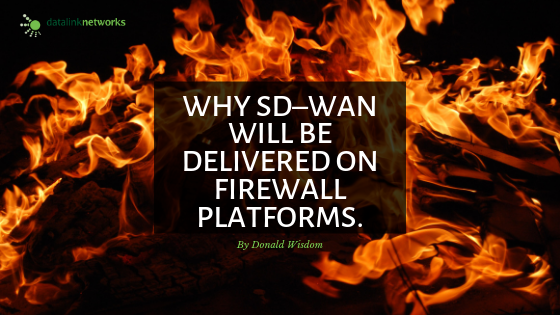 You may have heard about SD-WAN and wondered what all the talk was about. The SD –WAN market is evolving fast. The official definition of SD-WAN is that it decouples the network from the management plane of the appliance (in other words the control of the network). Let's look at the 4 components of SD-WAN:
Carrier Connectivity (Internet or Private Circuits)
WAN Virtualization (the ability of the network to add or combine network bandwidth in a dynamic fashion
Policy Driven Central Management (Managing all of the appliance devices from a central management platform
Flexible Traffic Management (The ability to prioritize applications and to expand bandwidth options in real time.
Traditionally, the market has recognized SD-WAN vendors for their ability to provide these four features in network products. The market forecast according to the IDC is set to reach 4.5 billion between 2017 by 2022, a 40% CAGR.
This growth will be split by companies implementing their own SD-WAN solutions, through Systems Integrators and those choosing to implement SD-WAN as a service through carriers.
Market Moving Towards SD-WAN Firewall Appliances
The market is shifting from dedicated SD-WAN appliances that includes the likes of Silverpeak, Riverbed and Aryaka to security vendors whose products offer routing and firewalling. This shift is centered around the idea that one appliance that offers SD-WAN technologies, AND routing and firewall services is a better value and easier to manage than multiple appliances providing separate functions.
Most of the dedicated SD-WAN appliance offer some baseline security features including a stateful firewall and site to site VPN's, however they don't offer more in depth perimeter security, that is native to most of the Cloud Gen Firewalls on the market today. These Firewalls combine the best features of SD-WAN with advanced security features, including application identification and classification, QoS traffic prioritization, data loss prevention, sandboxing, and cloud application security brokers.
Given the fundamental need for a robust security solution in ANY SD-WAN product, Cloud Gen Firewalls are foundational to any high value solution, and the market is recognizing this and shifting in this direction. The vendors leading this trend include Barracuda, Fortinet, and Cisco Meraki. As the SDN Market continues to grow, look for continued leadership among these major Firewall vendors.
Malicious traffic and has directed many businesses to opt for the services of network and security management providers.
Adoption of cloud-based platforms for deploying business process and security systems has lowered the overall cost of installation and maintenance, besides enabling safe integration of managed services. Cloud has also allowed the retail, manufacturing and utility sector players to benefit from the boom in IoT devices and applications.
Make an Inquiry for purchasing this report @ https://www.gminsights.com/inquiry-before-buying/2978
Growing number of enterprises have evolved towards virtualization and have a need for secure cloud computing solutions. It has proven to work efficiently for a number of businesses and helped them save time, resources and offered a viable platform to expand operations globally. Retailers have been able to use cloud technology for optimizing businesses, through price management, recommendation personalization, real-time inventory review and many other processes.
Cloud-based platforms complement efforts to increase the use of IoT devices but make enterprises vulnerable to cyberattacks. Rapid growth in retail, particularly through e-commerce platforms, will bolster enterprise networking market size.
The Europe enterprise networking market is expected to hold a market share of over 20% by 2024 due to the rising internet penetration, attracting a lot of malware and viruses to halt enterprise networks. According to a recent study by the European Union Agency for Network and Information Security (ENISA), major cyber-attacks using ransomware were among the top cyber-attacks reported in 2016. An increase in cyber-attacks in countries such as the UK, Germany, and Italy have compelled government agencies and enterprises to come up with the enhanced cybersecurity policies and solutions.
Retail sales in the U.S. are projected to surpass the USD 3.8 trillion mark in 2019, according to the country's National Retail Federation. The region has apparently witnessed considerable reduction in unemployment rates and increase in daily wages, boosting the disposable incomes of consumers.