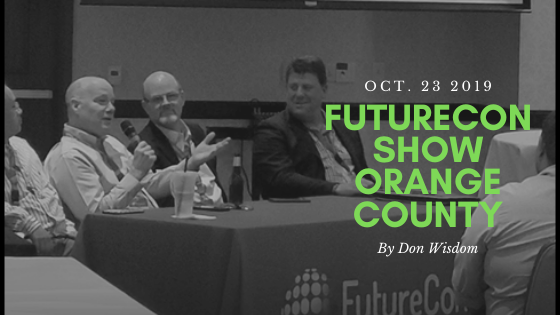 Datalink Networks exhibited at the FutureCon Security show on October 23rd in Santa Ana, California. FutureCon is a relatively new security conference, but already is gaining a reputation as a conference that brings together IT Security Professionals from Southern California, industry thought leaders, and the security vendor community. Future-Con provided us an opportunity to meet IT professionals to understand their cyber security concerns and issues.
The show is valuable because it brings together IT professionals for a full day, and since it is local for most people, is within easy driving distance. There are conference breakouts that are scheduled throughout the day, followed by 30 minutes in the vendor hall to discuss products and services, with both lunch, and an afternoon cocktail hour included at the end of the day.
Our primary offering to show attendees is a complementary cyber security assessment/cyber security consultation that provides insight into local security vulnerabilities, security policies, and network access rights and permissions. Out of the data our report generates, we provide an executive summary with a " Security Risk Score ", " Security Report Card " and recommendations on 5 actionable steps towards increasing an organizations security posture.
We were sharing space with Barracuda, who has been growing rapidly over the last few years. Barracuda produces products in three primary technology areas (1) E-Mail Security Solutions (2) SD-WAN Firewalls (3) (BDDR) Backup and Data Recovery Systems for SMB and the Mid - Market. Barracuda is typically seen as a competitor to companies like Proof-Point in the email security space, Sonic-wall and Fortinet in the SD-WAN Firewall category. Barracuda has recently delivered on some very innovative features in both email security through its "Sentinel" product, and on SD-WAN capabilities through its firewall product.
I was privileged to be selected with other security professionals to participate in a end of day panel discussion with the audience. The panel was hosted by Brian Contos, who is a and CISO and VP, Technology Innovation at Verodin- now a FireEye Company. Darrin Anderson, NXT Robotics Founder and CEO, and Stefan Richards a CISO and Chief Security Strategist for Micro-Focus joined me on the panel to address questions that Brian posed to the audience. Several main points from the panel discussion stand out:
(1) Our audience believes that Sr. leadership under-plans and under-funds security technology and initiatives.
(2) Our audience believes that security technology companies sometimes over-sell their solutions.
(3) The audience would like to see fewer point products and less noise, with more analytics to help understand security threats facing organizations today.
Future-Con Orange County was well attended, very informative and a great opportunity to connect with friends and business partners. Datalink Networks will continue our security road show tour with Data-Connectors show in San Diego CA at the Handlery Hotel on November 7th where we will be exhibiting with Barracuda.
Link to Data Connectors San Diego: