5 min read
Microsoft Teams vs. Zoom Vs Google Meet For Education
Topics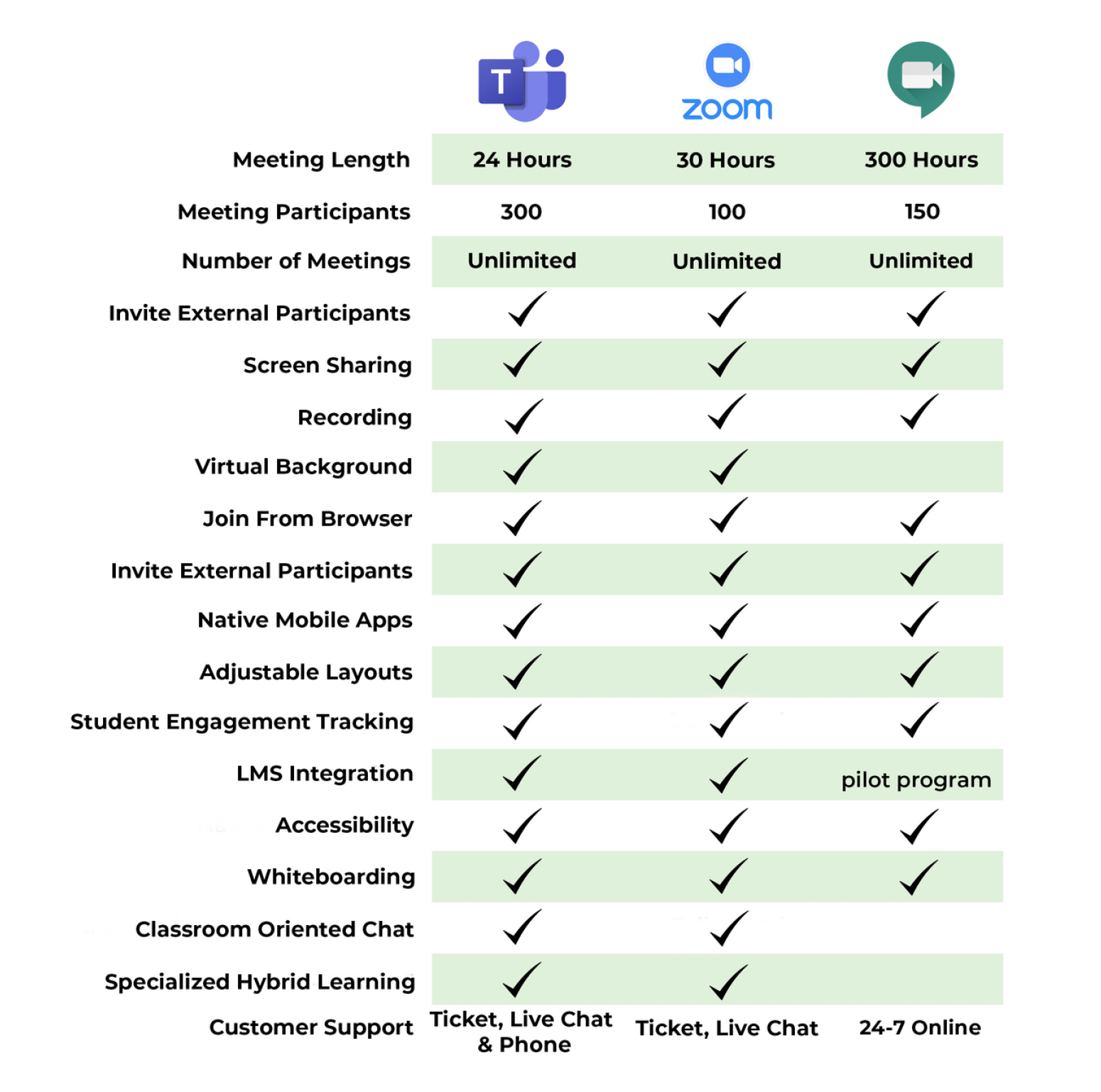 Introduction
The Pandemic, a spotlight was placed on video conferencing and collaboration software. Spurred by the COVID-19 pandemic and sudden shift to remote learning, the video conferencing market size is expected to top10.92 billion dollars by 2027.

Skyrocketing demand for video conferencing platforms has created an extremely competitive field with large technology investments coming from a plethora of technology giants.

This guide compares three of the largest competitors in the videoconferencing space (Zoom, Microsoft Teams, and Google Meet) across three main categories; pricing, features, and functionality.
Looking for business? Here is our competitive analysis of Teams v. Zoom v. Meet for business!
Need help picking collaboration software? Our expert team can help you determine the perfect fit! Additionally, our brand partnerships allow us to offer massive discounts on ALL collaboration software. You will not get a better price anywhere else, guaranteed!
For Education
Zoom, Microsoft Teams and Google Meet offer multiple versions of their software based on usage requirements. This includes free versions that are great for light uses, short conference calls, and light file sharing.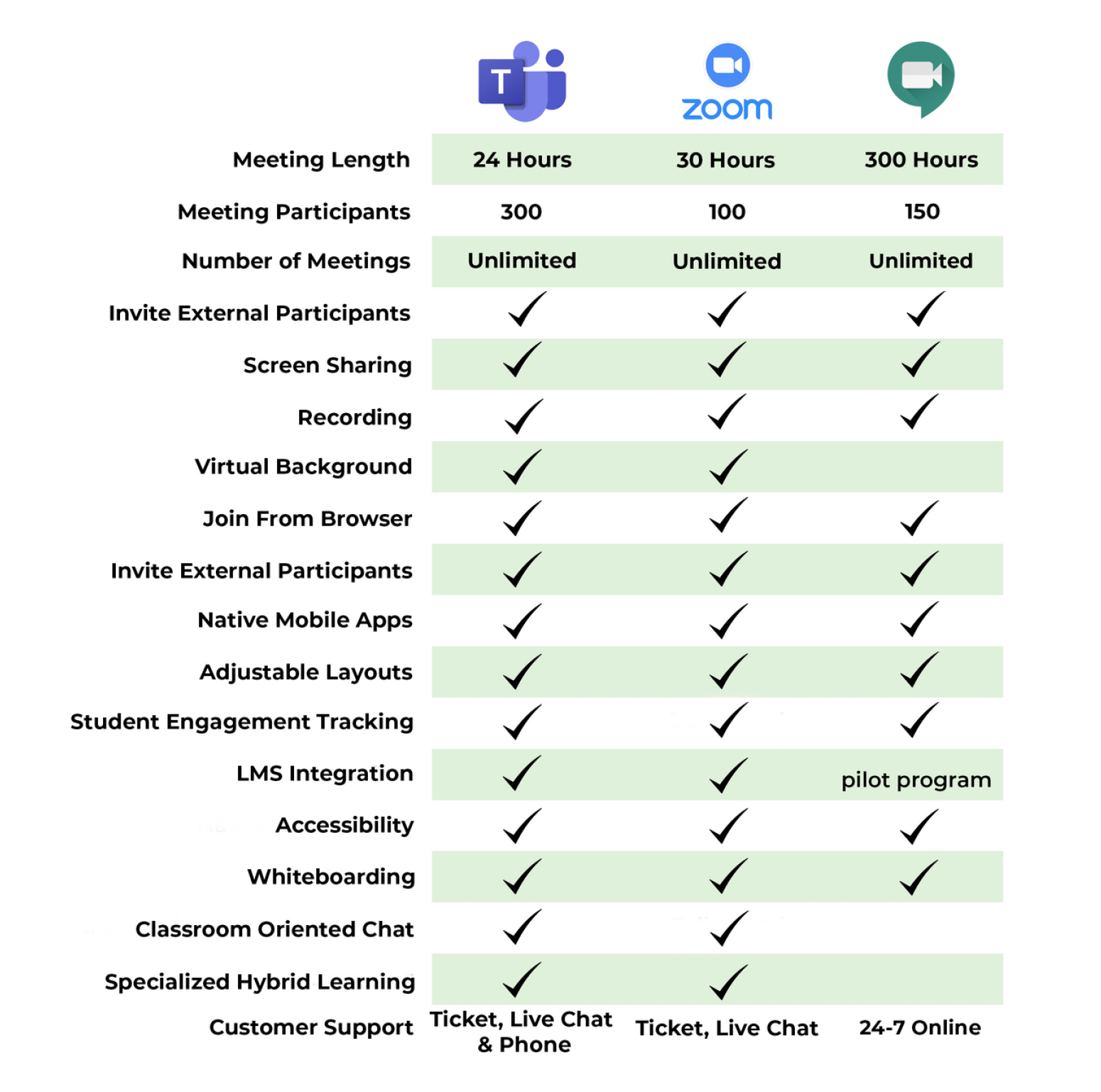 Microsoft Teams for Education
Microsoft Teams comes with all Microsoft Office 365 A licenses and features do not change across the license plans.
Read how these 10 technology devices are changing education!
Microsoft Teams for education offers many innovative tools specifically for education. These tools are not available in the business versions of teams.

These educational features include:
Assignments - Assign, track and grade assignments
Immersive Reader - Easily read conversations and chat in a personalized format
Whiteboard - Collaborate in a freeform, infinite digital canvas
Raise Your Hand - Be heard without disrupting other students
Together Mode - See the whole class in a new way
Accessibility - ASL visibility features and live closed captions
LMS Integrations - Custom educational experiences and LMS integrations
Read our ultimate guide to direct routing for Microsoft Teams.
Zoom for Education
Zoom offers two separate plans for education. Both plans start at $90 per year per user but are differentiated by certain features and software design.

Zoom for Higher Education is used by 96% of top US universities (US News and World Report), while Zoom for K-12 is steadily carving out a market share among schools and districts.

Like Microsoft Teams, Zoom for education boasts additional features to improve classroom and learning performance.

These educational features include:
Session Recording - Record lessons for playback
Student Engagement Tracking - Track student engagement
LMS Integration - Integrate with existing Learning Management Systems
Accessibility - Captioning and keyboard shortcuts
Enhanced Collaboration - One-click content sharing, real-time co-annotation, and digital white boarding
Read our an in-depth comparison of Teams vs Zoom!
Google Meet for Education
G Suite does not have any features specifically for education that differ from their enterprise solution, however, the G Suite platform is built for collaboration and offers a great medium for online learning and teaching.

Google Meet is a fantastic conferencing platform and Google Chat offers a chatting/collaboration/file sharing tool for added collaborating ability.

Using Google Classroom, Google Assignment and Google Forms, educators can create class curriculums, assign projects and grade with ease.

Advantages of Google Suite (Meet) include:
Collaboration - Google's entire product suite was built with collaboration in mind
Products - Google Suite appears to have a product for every task
Ease-of-use - If you use Gmail, you are likely already familiar with at least a handful Google products
Open Source - Google offers limitless open source templates for nearly any task
Is is time to move away from Plain Old Telephone Systems?
Apples to Apples
Important to Keep in Mind

When comparing these three products it is important to keep in mind that we are not comparing apples to apples.

Zoom is a stand-alone video conferencing product. Microsoft Teams andGoogle Meet are both conferencing products that are part of much larger product suites. Google Meet and Microsoft Teams cannot be purchased separately as they are part of all license options.

If you purchase Zoom, it is very likely you have already or will be purchasing either a Microsoft Office 365 or G Suite license.

Office 365 and G Suite

Microsoft Office 365 and Google's G Suite own over 99% of the office suite market share. They are both great product suites and are a must have for nearly every work environment.
As Microsoft Gold Partner, and nationally recognized MSP, we guarantee the best prices!
Performance Comparison
For this comparison guide only the video conferencing features have been compared for Microsoft Teams, Zoom, and Google Meet.
Microsoft Teams
Across 12,229 g2.com reviews, Teams averages 4.3/5. Here are the trending positive reviews:
Highly customizable
Tightly integrated with other Microsoft Office apps
Plentiful integration options
Included with Office 365 business accounts
Zoom
Across 41,019 g2.com reviews, Zoom averages 4.5/5. Here are the trending positive reviews:
Stellar performance
Rich features for hosts and participants
Easy to use
Company addresses problems candidly and quickly
Google Meet
Across 39,852 g2.com reviews, Google Workspace averages 4.6/5. Here are the trending positive reviews:
Highly customizable
Open source availability makes creating course content a breeze
Plentiful integration options
Included with Google Suite
Conclusion
Microsoft Teams, Zoom, and Google Meet offer a great solution to any video conferencing need.

Overall, Zoom is the highest reviewed conferencing software and a great option for a stand-alone video conferencing solution. However, when it comes to the best value, it is hard to beat Microsoft's 365 Business license. Not only do you get Microsoft Teams, but you receive access to the entire Microsoft suite and collaboration tools.

Datalink Networks is a managed service provider and a Microsoft gold partner based in LosAngeles, California. With 30 years of experience serving businesses of all industries and sizes,Datalink Networks can help your organization fulfill any IT needs including web conferencing solutions, software licensing, and devices. Please contact us for more information.
Contact Datalink Networks