9 min read
The Ultimate Guide to Microsoft Teams Direct Routing (Update 2021)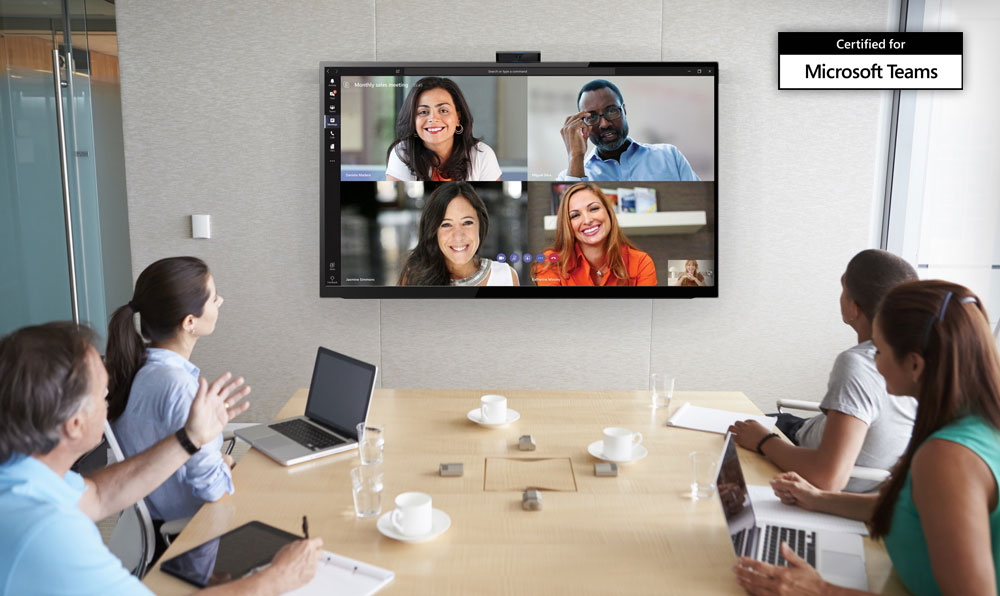 With the sudden shift to remote work, many companies have been scrambling to modernize their working environments. At the forefront of this trend is the need to streamline communication for a gloablly distributed workforce.
In this guide, we'll look at how companies can modernize their telephony infrastructure using Microsoft Teams Direct Routing.
Read our comparative analysis! Microsoft Teams vs. Zoom.
What is Unified Communications?
Unified Communications is a modern approach to communication that is conducive to today's hybrid approach to work and school. Unified Communications is most commonly offered "as-a-service", in which organizations pay a monthly fee to gain access to the platform. These robust platforms or applications act as a one-stop-shop for all forms of communication and collaboration including:
Cloud-based phone system

Chat or Messaging

Video Conferencing

File Sharing

3rd Party App Integrations
Unified Communications, or UC, has proven to be valuable to organizations across the world, allowing them to easily work and collaborate while being physically separated. The improved flexibility and all-in-one environment provide the right tools for employees both at home and in the office. In fact, 68% of UC buyers say that all-inclusive capabilities are crucial to their purchasing decisions.
There are several different platforms on the market today such as Microsoft Teams, Zoom, RingCentral, and Mitel. Each of these platforms has its individual pros and cons, so no single option is the best one for every organization.
Cloud Telephony vs. Traditional PBX Systems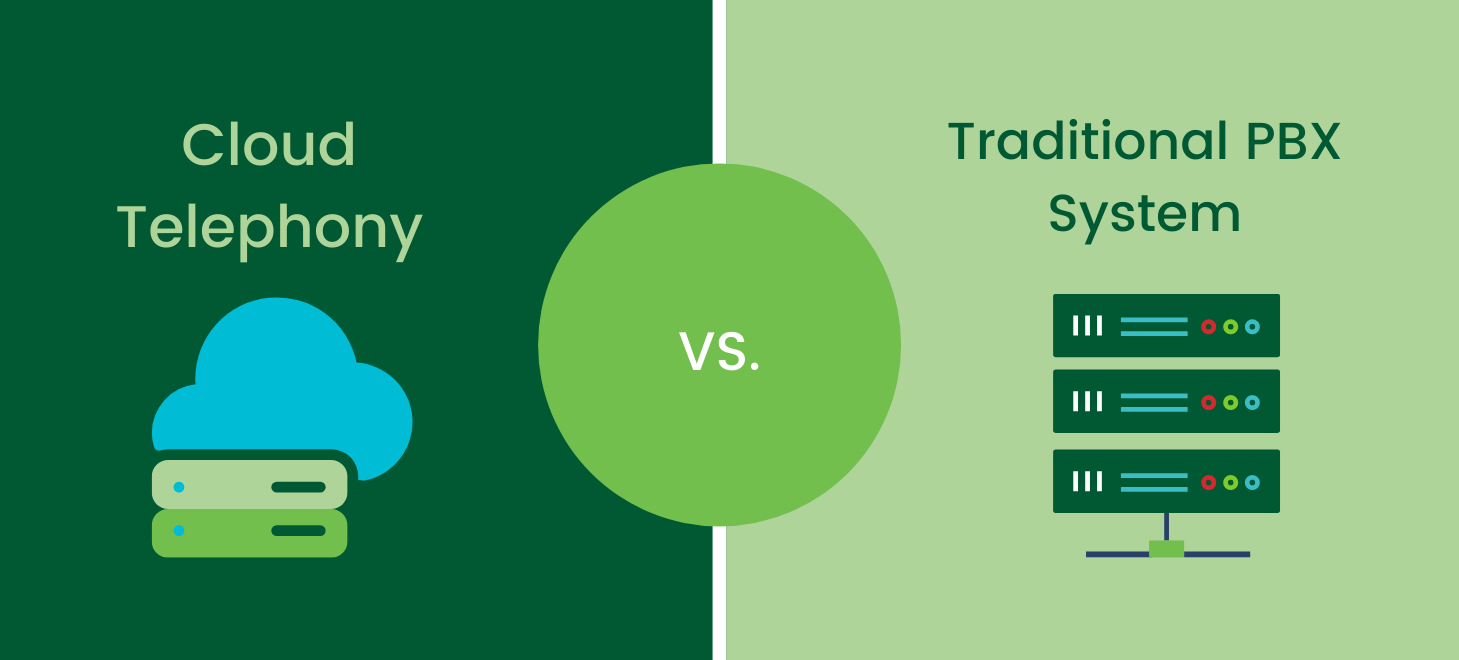 Traditional PBX systems, or Private Branch Exchange, are far less flexible than a cloud-based phone system due to their reliance on a physical system at each organization's branch or location. Because of the physical footprint and the required hardware maintenance, PBX systems have become a costly option. Additionally, as work-from-anywhere becomes more prominent, users require that their phone system can follow them wherever they go, not just at their office desk, which is not something that a PBX system is capable of.
Cloud Telephony, on the other hand, uses cloud servers available through the internet to provide voice communication services. Cloud telephony increases flexibility as it allows employees to use their work phone numbers from anywhere with an internet connection rather than solely from their work desk. It also keeps employers from having to purchase the same extend of hardware for their employees to use. Often, instead of purchasing desk phones for each user, companies will opt for headsets that users can connect to their Unified Communications platform.
Another option is to implement a BYOD, or Bring Your Own Device policy, where users can use their personal mobile devices for work purposes. Also, since there is no physical server, a systems administrator is not needed to maintain or manage the phone system. Once set up, little maintenance is required, freeing up your IT staff for more core competencies or higher-level assignments.
Read Microsoft Teams vs. RingCentral. Our unified communications comparison guide.
Microsoft Teams for Unified Communications
Microsoft Teams is the hub for team collaboration in Microsoft 365 that integrates the people, content, and tools your team needs to be more engaged. Organization's already using Microsoft find that Teams is the best option for them, provided that the Teams collaboration platform is already included in their licensing package.
Similar to its competitor, RingCentral, Microsoft Teams offers instant messaging, video conferencing, file sharing, and other tools to make this platform a central hub for all your organization's communication efforts. Microsoft Teams also offers a vast amount of third-party and native integrated applications like Microsoft Planner to keep track of and assign tasks to individual users, Karma to reward and acknowledge your colleagues for their work, and AttendanceBot to automate and manage time-sheets and off-work policies. These various tools and applications are made to increase productivity, provide ease of use, and maintain high levels of communication throughout all organizations and teams.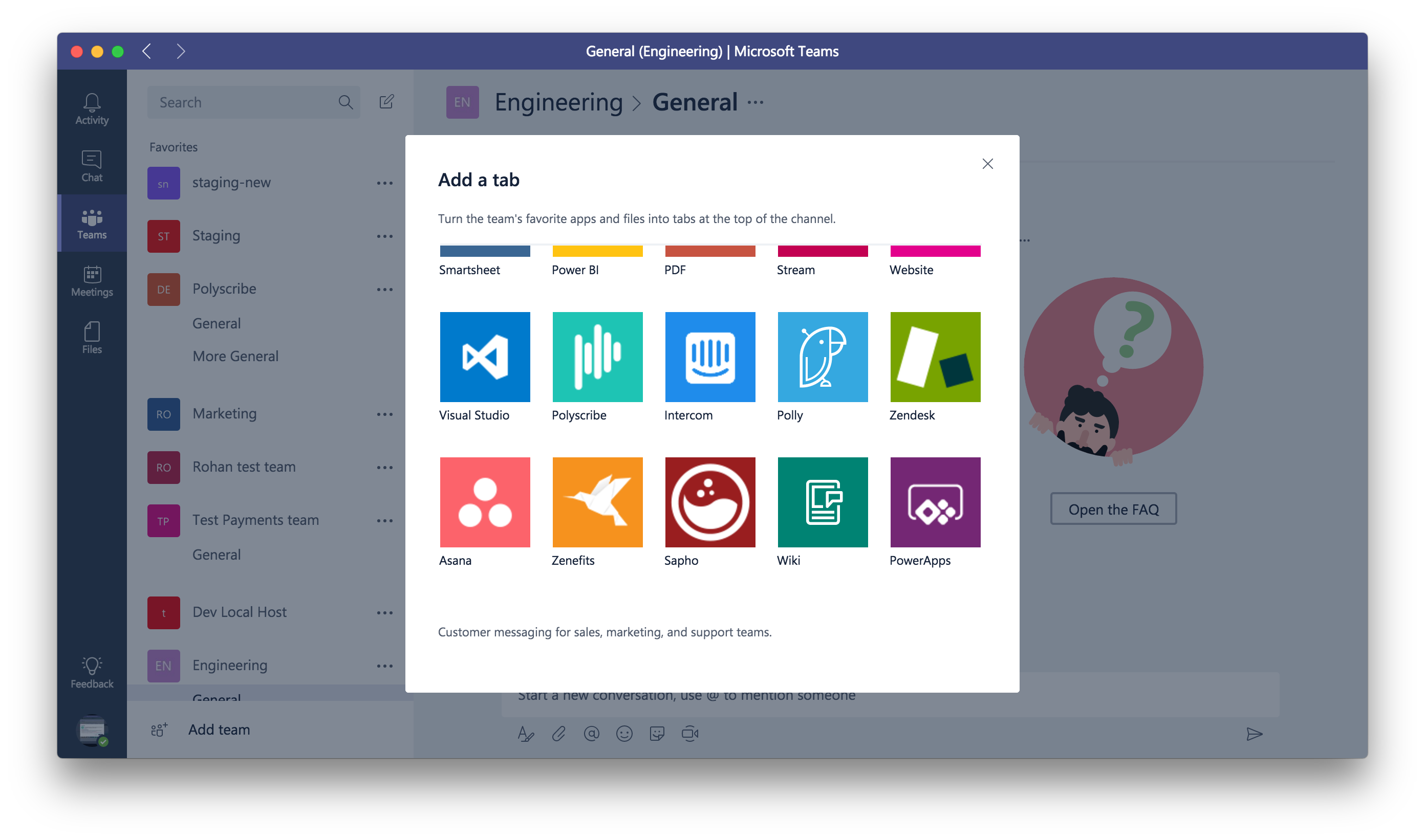 The Microsoft Teams phone system can be accessed through the "calls" button on the vertical left-hand menu. From here, users can make calls, access their voicemail, and view their call log. Additionally, users can adjust settings to have dual-ring, forward their calls, or set up their voicemail greeting. On the back end, your IT Team can configure the phone system infrastructure to allow for an auto-attendant, set up additional forwarding rules, and create delegates
Learn about our 5 step guide to Microsoft teams phone system migration!
.
Microsoft Teams Direct Routing Requirements
In order to utilize the cloud telephony features offered through Microsoft Teams, there are several requirements your organization must follow:
1. Verify Infrastructure Requirements
To deploy direct routing, your organizations' infrastructure must meet a variety of requirements such as:
A supported session border controller (SBC) with a qualified domain name and public trusted certificate

Telephony trunk connected to SBC

Microsoft organization complete with user registrar and domains

A public IP address

Public DNS entry mapping for SBC

Connection points for direct routing

Firewall IP addresses and ports for direct routing and Microsoft Teams media

Media transport profile
If you aren't sure if your organization meets these requirements, Datalink Networks, can help determine if you meet requirements and provide you with action items and guidance.
2. Understand your Microsoft Licensing
Microsoft offers Teams in certain licensing SKUs, so it is crucial for your organization to have the correct licensing. For example, some of the less costly SKUs like Microsoft 365 Applications for Enterprise only offer a partial version of Teams and the Exchange Online P1 plan does not offer Teams at all. Most standard license options do include Teams, but Microsoft 365 E5 includes all the licenses necessary to enable Audio Calls and the phone system. Before moving forward, make sure you understand what licenses your organization is currently using and what features are included.
3. Purchase License Required for Direct Routing
As mentioned, some Microsoft options, such as Microsoft 365 E5 include the license that enables Teams to become the phone system, which is the best choice for organizations with over 300 users. Other license options do not include this feature but is available from Microsoft as a separate license called Microsoft 365 Business Voice which is available for organizations with under 300 users. It is important to note that this license can also include a calling plan.
4. Set up Calling Plan
The calling plan for your Team's phone system is what actually enables users in your organization to make calls. These calling plans can be purchased directly through Microsoft as part of the Microsoft Business Voice license or as an add-on to the E5 license. Additionally, a calling plan can be purchased through a third party, such as Sippio or Call Tower for a discount. Regardless of which plan you choose, they all carry out the same necessary function.
5. Check out add-on features
Microsoft offers add-on phone features that may or may not be important for your organization such as audio conferencing to allow for people to call into a Teams meeting or toll-free numbers. Audit what calling features your organization currently utilizes to help determine which add-on features will be most useful for your team.
See 10 Tips for effective conference calls.
Microsoft Teams Phone System Migration
The best first step to implementing Microsoft Teams is to migrate your organization to Microsoft Teams for all forms of communication such as chat and video conferencing. Having your organization adopt Microsoft Teams can help ensure that the deployment of a phone system through Teams will be successful as far as adoption.
Next, ensure that all your direct routing requirements are in place. Between understanding which licensing you need, setting up a call plan, and ensuring your IT infrastructure is set up to handle Teams direct routing, your team may be in for a lengthy project. For additional help and support, Datalink Networks can manage the project from start to end and verify that deployment is successful.
Once requirements are in place, you can begin assigning new numbers or porting existing numbers. Porting existing numbers will provide the least disruption to your organization as users can continue to use the numbers they are familiar with. If that isn't an option or additional team members are on-boarded, new numbers can be assigned. Around the time numbers are assigned or ported, other settings can be configured to allow for an auto-attendant, simultaneous ring, call-forwarding rules, and more.
The final step in implementing Microsoft Teams is to train your employees. Provided employees are already using Microsoft Teams for instant messaging, video conferencing, and file sharing, the adoption of the cloud telephony feature should be easy. Training your employees on how to use this new feature and the different settings they can enable for their own number can help them get the most value out of it.
Read our article about how to plan your Microsoft teams phone system migration.
For more information on Microsoft Teams for unified communications contact Datalink Networks today
Contact Datalink Networks