The Coronavirus Pandemic has placed a spotlight on video conferencing and collaboration software. Spurred by a shift to remote working, the video conferencing market size is expected to top 10.92 billion dollars1 by 2027.
Are you in Education? Check out our in-depth comparison guide specifically for Education!
Skyrocketing demand for easy-to-use video conferencing platforms has created an extremely competitive field with large technology investments from a plethora of technology giants.
This guide compares three of the largest competitors in the Video Conferencing space (Zoom, Microsoft Teams, and Google Meet) across three main categories; price, features and functionality, and reviews.
Pricing

Pricing across Zoom, Microsoft Teams and Google Meet is very comparable. All platforms offer multiple versions based on usage requirements.
Did you know that Managed Service Providers, like Datalink Networks, can get your organization better pricing on business licensing?
Free Tier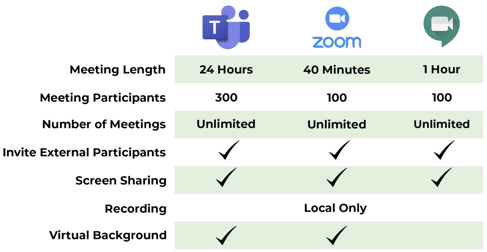 A free tier is offered by all three platforms. The free versions offer a scaled down version of the business solutions. The free tier is great for light uses, including short video chats, messaging and light file sharing.
Below is a comparison chart overviewing what is included in the free tier of each of the platforms being reviewed.
Small Team/Small Business Tier
Zoom and Microsoft Teams offer two separate versions for smaller businesses or team collaboration while Google Meet only offers one option.
Google Meet and Microsoft Teams pricing is included within the licensing structure for the parent service. Zoom pricing only includes video conferencing and does not include an accompanying tool suite.
Microsoft Teams
The paid version of Microsoft Teams comes as part of a Microsoft 365 Basic, Microsoft 365 Standard or Microsoft 365 E3 license.
Microsoft 365 Basic licenses start at $5.00/month per user. This license is specifically for individuals and/or small businesses and organizations.
The Microsoft Standard license starts at $12.50/month per user and is for small to midsize businesses.
In regards to Microsoft Teams, the functionality is the exact same in both the Basic and Standard licenses. When compared to the enterprise license features, this version of Teams has user limits, hosting limits and lacks a phone system.
Google Workspace Essentials
Like Microsoft, Google offers Meet as part of a larger license. Google Workspace Essentials start at $8.00/month per user.
When compared to Google's enterprise license, Workspace Enterprise, this tier of Google Meet is restricted in meeting participants, streaming viewers, and intelligent noise cancellation.
Zoom
Based on an organization's size, Zoom also has multiple plan options. They offer two options for small businesses. The Pro plan is for individuals or businesses who need one to nine accounts. The Business plan is for businesses or organizations who need ten to ninety-nine accounts.
The Pro option starts at $14.99/month per user with two months free offered for annual contracts. When compared to the enterprise license, the Pro license is restricted to the number of users, meeting participants, admin portal abilities, branding abilities, software integrations, meeting recording storage, ability to have interpreters, and do not have a customer success manager.
The Business option starts at $19.99/month per user with two months free offered for annual contracts. When compared to the enterprise license, the Business license is restricted to the number of users, meeting participants, meeting recording storage and does not receive a customer success manager and/or business insights.
Enterprise Business Tier
Zoom, Microsoft Teams and Google Meet all offer a top-tier option for enterprise businesses.
Microsoft Teams
Microsoft Teams enterprise teams platform comes included with a Microsoft 365 E3 license. This license starts at $20.00/month per user.
Google Workspace Enterprise
Google Meet is part of the Workspace Enterprise License. This license ranges from $12.00/month per user to $25.00/month per user based on the number of users and storage needs.
Zoom
Zoom Enterprise starts at $199.90/year per user.
See the top 5 benefits of hiring a dedicated MSP!
Features and Functionality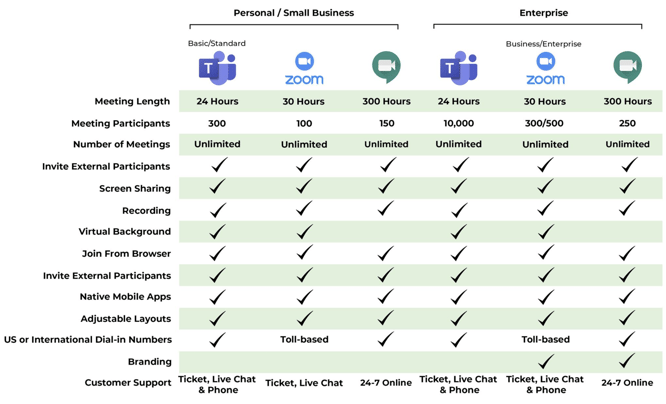 Comparing these three platforms is not exactly comparing apples to apples. Google Meet and Microsoft Teams are both purchased as part of much larger platforms. Therefore, what you actually receive with a Microsoft 365 or Google Workspace license is much more than a video conferencing platform.
Microsoft Teams also has much more collaboration functionality than is offered by either Google Meet and Zoom.
For this comparison guide, only the video conferencing features have been compared to represent which platform offers the best video conferencing features.
Reviews

Due to their popularity there are an extensive amount of reviews available for Microsoft Teams, Zoom and Google Meet.
Microsoft Teams
These are the top positive reviews across 18,828 reviews available online.
Highly customizable
Tightly integrated with other Microsoft Office apps
Plentiful integration options
Included with Office 365 business accounts
Zoom
Generous free account
Competitively priced paid plans
Stellar performance
Rich features for hosts and participants
Easy to use
Company addresses problems candidly and quickly
Google Meet
Cost
Ease of use
Call quality
Screen sharing ease and quality
Integrated with all Google products
Contact Datalink Networks