11 min read
What is ISO 27001? Requirements and Related Standards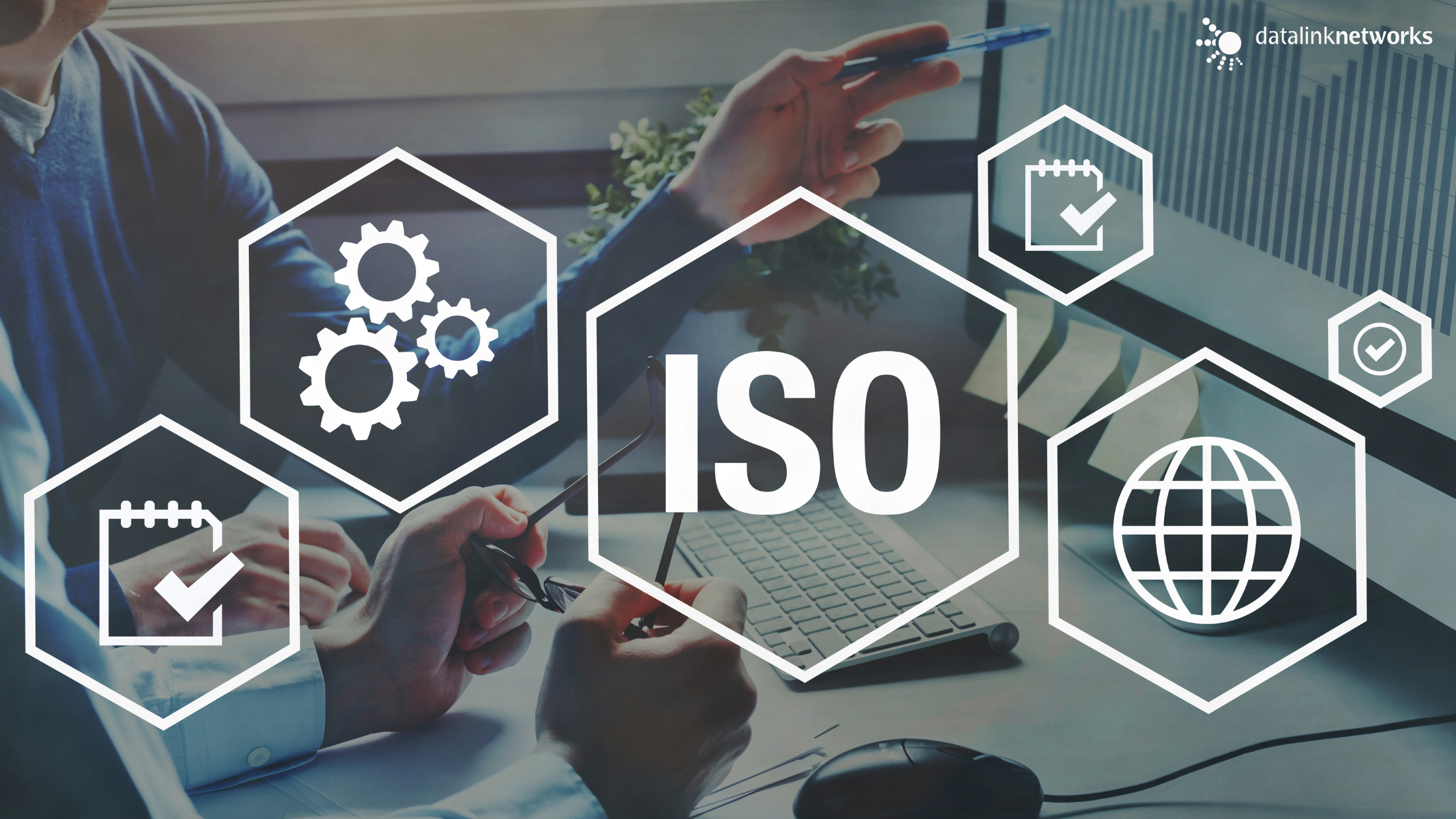 What is ISO 27001?
The International Organization for Standardization (ISO) is a global organization that is in control of the management and collection of various standards across different fields and professions. The ISO 27001 standard is designed to serve as a framework for an organization's information security management system (ISMS).
This standard covers all processes and policies that relate to how data is used and managed by an organization. It also includes the assessment requirements and the risk treatment.

To achieve ISO 27001, an organization has to comply with clauses 4 through 10 in the standard, which we'll expand on. To gain a clearer understanding and perspective of what an ISO 27001 Standard is, the benefits, requirements, and related standards, we will take a closer look at all of these.
Click here to see our "Complete NIST Compliance Checklist".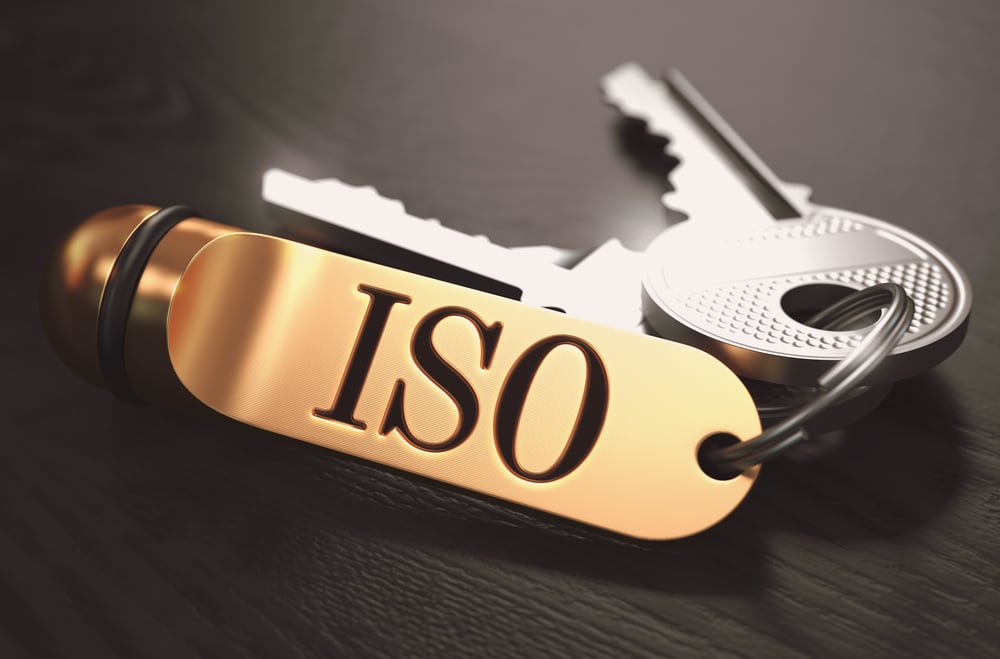 How ISO 27001 Will Benefit Your Organization
ISO is the only auditable international standard that outlines the requirements of as ISMS, which is an information security management system. An ISMS is a systematic approach comprised of technology, processes, and people that aids in protection and management of your organization's information. This is possible through efficient risk management.

At the foundation of an ISO 27001-compliant ISMS are business-driven risk assessments, which allow you to pinpoint and restore security threats in relation to your organization's risk appetite.
Here are 5 ways your organization will benefit from ISO 27001:
Security Threat Protection


The most critical reason for obtaining this certification is that it will help defend against security threats. This consists of both cyber criminals forcing their way into your organization and data breaches, as a result of internal actors' errors.

The ISO 27001 framework verifies that you have the necessary tools in place to strengthen your organization within the three cybersecurity pillars: technology, people, and processes. The standard is available for you to determine the relevant policies for documentation, the technologies to shelter you, and the staff training to prevent mistakes.
Here are the "4 Reasons Why Security Compliance is Important for your Organization."
Avoidance of Regulatory Fines


ISO 27001 allows organizations to steer clear of the costly penalties correlated with non-compliance; with data protection requirements like the GDPR (General Data Protection Regulation). As a matter of fact, the Standard's framework has many similarities to the GDPR, and organizations can apply its guidelines to achieve and sustain compliance.

But GDPR isn't the only framework that ISO 27001 can help you with; its best-practice approach to information security gives it a great starting point for any number of regulations.


Safeguard your Reputation
By acquiring ISO 27001 compliance, you can illustrate to stakeholders that you take information security seriously. This will make a difference when recruiting new business and will boost your reputation with clients/customers. Indeed, there are some organizations that will only work with others who can prove certification to ISO 27001.
Cyber-attacks are unfortunately on the rise worldwide and can have a devastating effect on the survival and reputation of a business. An ISO 27001-certified ISMS (information security management system) helps protect your business and keeps you out of the media spotlight.
Improve Structure and Focus


As organizations flourish and expand, it doesn't take long before people forget their responsibilities surrounding information security.
With ISO 27001, you can create a system with enough flexibility to ensure that everyone continues to focus their attention on information security. Similarly, organizations are required to conduct annual risk assessments to help you make the necessary changes.
Reduce Need for Frequent Audits
ISO 27001 certification is globally received and exhibits effective security, minimizing the need for recurring customer audits.

Read here to find out why your business needs to be NIST compliant.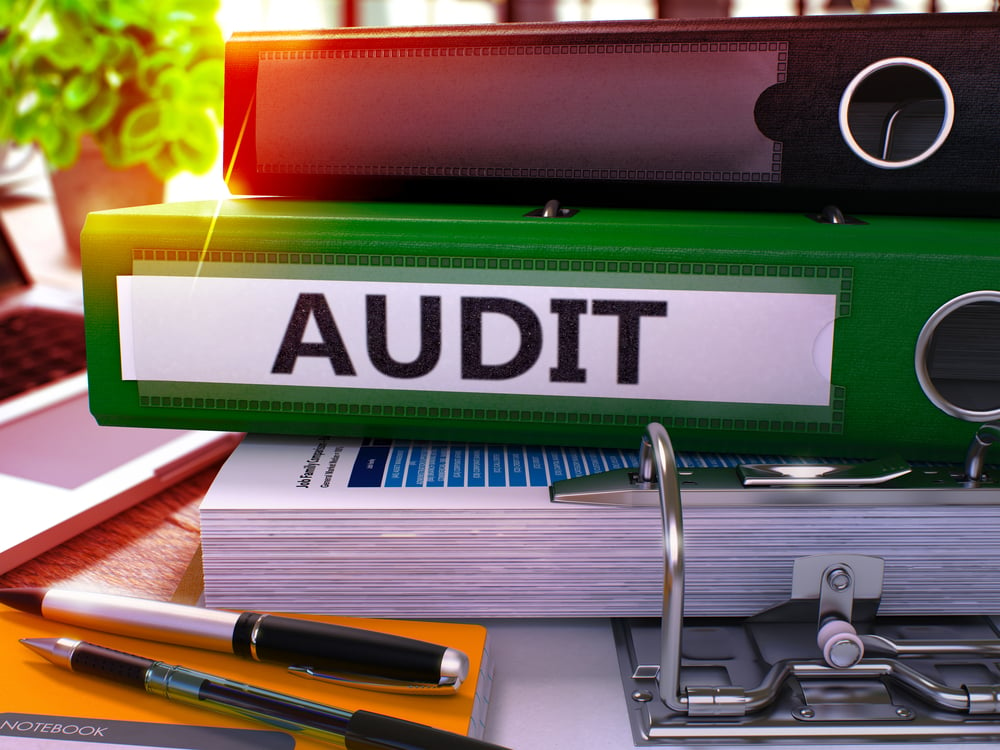 ISO Requirements
Process Evidence
Over the course of your certification audit, your auditor must evaluate distinct aspects of your ISMS, consisting of business processes, policies, and supporting evidence.
Here is a baseline of all the required documentation you will be providing for your auditor:
ISMS Scope

Information security policy

Information security risk assessment process

Information security risk treatment process

Statement of Applicability

Information security objectives

Verification of jurisdiction

Security awareness training program and results

Results of information security risk assessment

Results of information security risk treatment

Verification of surveilling and computation of results

Documented internal audit process

Verification of audit programs and results

Verification of results of management reviews

Verification of non-conformities and remediations

Verification of remediation results

Annex A control activity evidence
ISO 27001 Requirements
There are numerous organizations that refer to ISO 27001 international security standards to lead their Information Security Management System (ISMS) implementation and design. Although companies are not legally required to align with these standards, some work towards ISO 27001 certification to be most effectively aligned with data security best practices.
The International Standards Organization updates the ISO 27001 requirements every five years. The most recent edition (ISO 27001:2022) uses the same two-part framework that was built in the 2013 requirements.
Part 1 consists of 11 clauses, with a high-level look at the requirements and essential documentation your organization must follow when constructing an ISMS. Part 2 has 93 suggested controls that can be implemented to meet the ISMS requirements.
The ISO 27001 Introduction: Clauses 0-3
Clauses 0-3 in the ISO 27001 guidelines cover the all-inclusive intent of the security standards, and extent of what is required for ISO 27001 certification. Although these clauses don't exactly speak on ISO 27001 requirements, they pave the way for the rest of the standards by providing context through normative citations and defining popular terms.
Requirement #1: A Defined Project Scope
Every organization's ISMS implementation looks different depending on these factors:
Regulatory compliance requisites
Relevant internal and external stakeholders
Security standards specific to industry type
Contractual requirements and client needs
Resources available in house

The first requirement in clause 4 incorporates defining the scope of an organization's ISMS design and implementation project. This scope document offers context for the implementation's boundaries and chosen controls. These are dependent on the specific needs of the organization, the industry they work in, the compliance requirements that they are to meet, and the expectations of their client's stakeholders.

In order to meet this requirement, the company has to create an ISMS Scope document that outlines the implementation process and details how teams will track and improve the ISMS. This document gives auditors essential context they'll use to evaluate a company's ISMS design and controls.
Requirement #2: Demonstrated Leadership Commitment
To have a successful ISMS implementation, teams need to feel confident that their senior leaders are committed to the cause. This will be critical for companies striving for ISO 27001 certification, considering the lengthy amount of time and resource allocation that is required to complete the project.
The second requirement (analyzed in clause 5) involves the senior leadership team drafting and signing off on an Information Security Policy Statement. This policy exhibits leadership's commitment to the project to clients, employees, and auditors. It also displays the roles involved in the implementation, monitoring, and maintenance of the ISMS, delegating certain responsibilities to teams or team members.
Requirement #3: Define Security Objectives
Clause 6 of the ISO 27001 ISMS requirements involves defining the business case and risk management strategy an ISMS implementation is intended to reinforce. Appointing significant security objectives starts with assessing security risks and opportunities to more effectively manage security procedures.
Keeping the risk assessment and strategic goals in mind, businesses need to establish measurable security objectives that define implementation success, and show the ISMS is functioning as designed. Businesses use these objectives to plan ISMS implementation and improvement projects, and track metrics to calculate their success.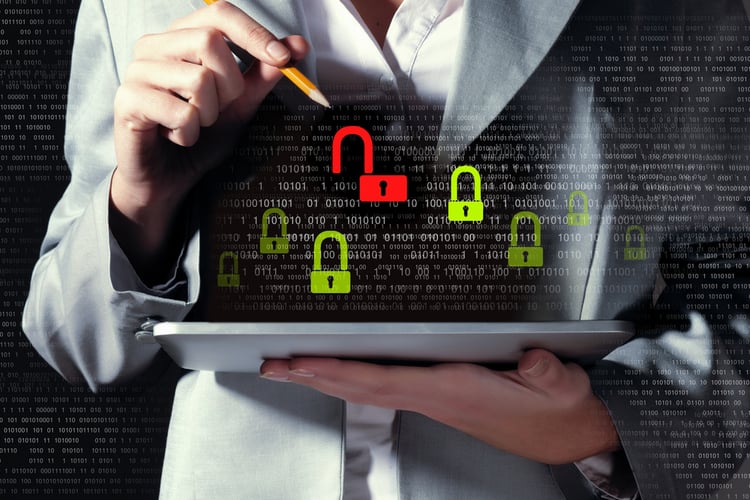 Requirement #4: Resource Provisioning/Allocation Plan
Successful implementation and upkeep of ISMS call for consistent resource allocation, and clause 7 designates how the company must continue to provide resources for improvement. To guarantee that the company appropriately maintains its ISMS, clause 7 asks organizations to supply the following items:
Recorded proof of competence, displaying how team members can efficiently monitor, manage, and sustain the ISMS
Confirmation that employees are all aware of their duties, as they are defined in the Information Security Policy Statement and the significance of maintaining the ISMS
A clear, communication plan to show how and when the teams share ISMS information with stakeholders and other afflicted parties
Detailed documentation-including procedures, policies, and reporting on metrics-showing how the team will achieve project objectives and what resources they need to accomplish desired results
These ISO 27001 required documents prove to auditors that the company has the correct resources to maintain the ISMS and detail how workers will support the ongoing improvement of the system.
Requirement #5: Operations and Process Plan
The declaration required by clause 8 involves the operations that are mandatory to implement and maintain the ISMS. To meet this requirement, organizations are to create a risk assessment (which can be used by companies to define the Clause 5 objectives) and catalog how often the team will perform these in the future.
Once a company has a risk assessment report in place, the company will also create a risk treatment plan that describes the processes and procedures the company will adhere to in order to mitigate risk. As organizations perform risk mitigation processes, they should keep documentation of what actions they are taking to mitigate risk and follow the practices in their risk treatment plan.
Requirement #6: Performance Measurement Procedures
Several of the ISO 27001 clauses incorporate keeping close track of the continuous success of the ISMS implementation/controls, but Clause 9 specifically calls for a procedure that monitors the project's performance.

To meet these standards, companies need to design ISO 27001 procedures to analyze, track, and evaluate performance of ISMS. These procedures go beyond measuring the success of the objectives laid out in clause 5. Clause 9 requires businesses to develop a plan for monitoring individual control performance, as well.
Clause 9 also commands how often and when senior leadership and their employees will audit the ISMS. Management reviews and internal audits are to be completed at least once a year, but there are some organizations that call for them more frequently.

These ISO 27001 internal audit requirements generate reports based on a company's commitment to improving the ISMS. This provides auditors with the necessary evidence they are looking for.


Requirement #7: A Nonconformity and Improvement Logging Process
There is not a single company that can 100% maintain compliance, it's just not attainable. Prepping for new risks requires having a thorough plan to handle nonconformities with reparable action. Clause 10 entails building a plan to address these cases and recording the changes to confront the problem at hand.
Clause 10 also requires that businesses log opportunities where they can see improvement. ISO 27001 certification goes past following an ISO 27001 list of requirements just once.

Businesses have to be capable of realizing their ISMS will be a constant work in progress, requiring recurring testing, tracking, and continual improvement. Teams must record all performative changes and events where improvements are required through testing or audits.


See our complete GDPR Compliance Checklist here.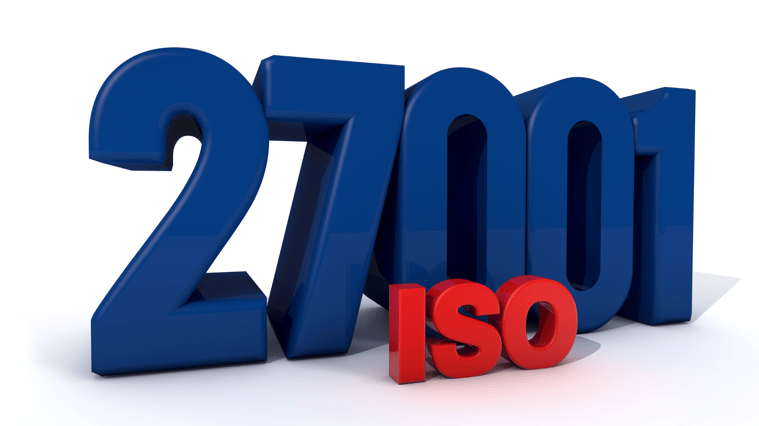 Related Standards
There are many data security standards other than ISO 27001 that are commonly used today. Often, cyber security standards other than ISO 27001 and the 47+ supplementary standards of the series, are built into ISMSs.
Auditors of ISMS and anyone who negotiates with customers on information security issues should have knowledge of the application/use of these standards. Here, you will find some of the most common standards found in the compliance realm.


PCI-DDS or the Payment Card Industry Data Security Standard
PCI-DDs essentially address payment account data security. If your designated industry cannot receive process and transmit payments online, this is not a standard you need to apply to your business.
COBIT


COBIT or Control Objectives for Information and Related Technology, is not exactly a clearly defined standard, but is a framework that links IT initiatives to business requirements, organizes IT activities into an accepted business practice model, states the management control objectives, and identifies information resources to be leveraged and utilized.
While COBIT may include ISO standards, it is more focused on the compliance approach of doing things so that all activities, management activities, and acquisitions fall within the acceptable norms of business. It is accepted worldwide as a guidance tool for the good governance of the business for IT and related technologies.


Additional Information Security Standards
Additionally, there are several regulatory standards/requirements that might depend on where products and services are being sent to. These consist of:
SOC - System and Organization Controls
SOX - The Sarbanes Oxley Act of 2002
HIPAA - The US Health Insurance Portability and Accountability Act
FISMA - The Federal Information Security Management Act of 2002
FIPS - Federal Information Processing Standards
Read here to learn more information on HIPAA compliance.
Make Meeting ISO 27001 Audit Requirements Simple

ISO 27001 is not mandatory but can make a considerable difference in your business' security posture. Clients are looking for modern companies to manage their data safely, and implementing an ISMS is a key step toward securing and protecting your data in the event of a breach.

That is just a small reason why companies decide to follow the ISO 27001 requirements. While pursuing this certification is a large venture, implementing some controls may be simpler than you think; there are many already created that can be replicated and used for your own benefit.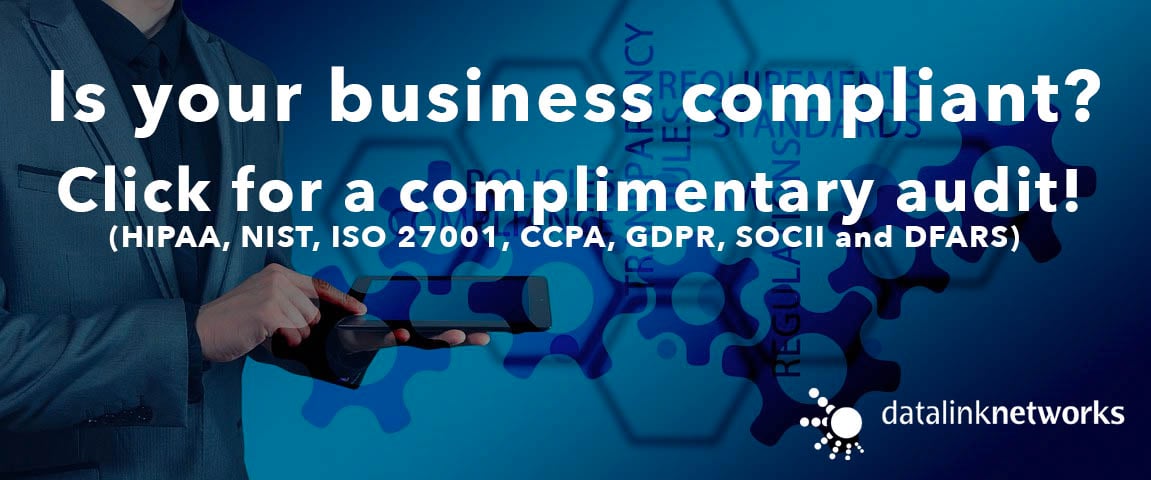 Datalink's Solution
To ensure your network is robust and effective, you can conduct an Information Security Gap Assessment to identify areas of weakness within your network security controls.
Datalink Networks helps your team conduct this analysis based on your industry-standard security framework, including ISO 27001 and many others. Our team of experts will evaluate your staff and IT process to assess your environment.

After this evaluation, the team will provide a strategic roadmap to accomplish all information security requirements and find the vulnerabilities within your IT security infrastructure.

Today's information gaps turn into tomorrow's perilous chasms. Please contact us today for a free security audit.
Contact Datalink Networks