1 min read
Datalink Networks Announces Microsoft Gold Communications Competency
Topics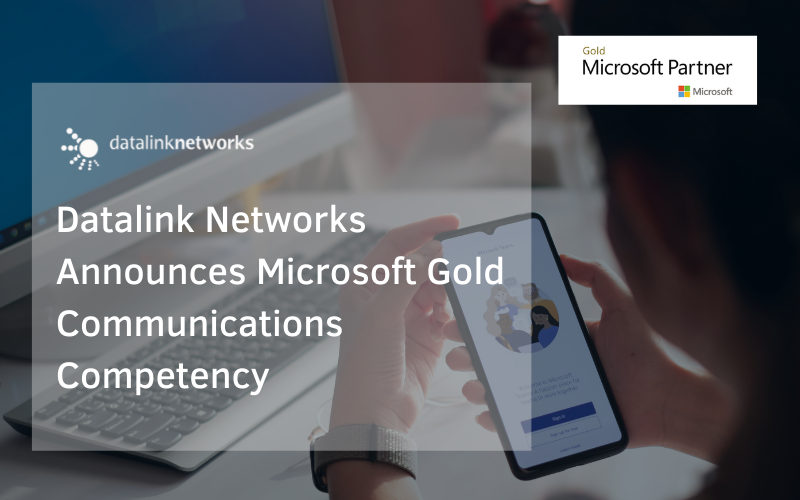 UPDATED: Datalink Networks achieves Microsoft Gold status!
Santa Clarita, CA. July 15, 2021 - Datalink Networks announced today that it has achieved a Microsoft Gold Communications Partner competency. This demonstrates Datalink Networks' ability to design and deploy unified communications solutions to meet the dynamic needs of its customers.
To earn a Microsoft Gold competency, partners must successfully demonstrate expertise through rigorous exams, culminating in Microsoft certifications. And to ensure the highest quality of services, Microsoft requires customer references for successful implementation and customer satisfaction.
At the end of 2020, Datalink Networks began helping its clients migrate to Microsoft Teams for unified communications, providing free proof of concepts to qualified organizations. President of Datalink Networks, Donald Wisdom, states "With a Microsoft Communications competency, [Datalink Networks] can showcase our technical capabilities in implementing unified communications strategies for customers through designing, planning, deploying, and maintaining of Microsoft Teams Voice"
Read how a dedicated managed service provider can improve your business and reduce costs!
The Microsoft Partner Network helps parts strengthen their capabilities to showcase leadership in the marketplace on the latest technology, to better serve customers and, with 640,000 Microsoft partners in their ecosystem, to easily connect with one of the most active, diverse networks in the world.
About Datalink Networks
Datalink Networks is a national managed service and IT solutions provider serving organizations of all industries and sizes across the United States. Founded in 1988 in Santa Clarita, CA, Datalink Networks has been helping organizations implement IT services and solutions for over 30 years. Dedicated to providing customers with excellent customer service, expertise, and leadership, Datalink Networks is your one-stop shop to all things IT.