12 min read
Managed IT Services: What are They and Why are They Beneficial to Your Organization
Topics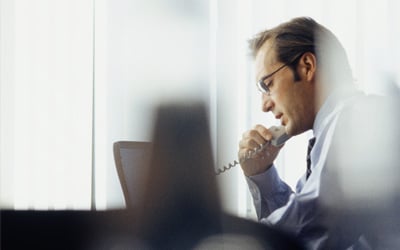 What is a Managed Service Provider (MSP)?
A managed service provider (MSP) is a third party company or an individual that works remotely to keep all aspects of a business running smoothly. Within this package, a reliable MSP will provide solutions to your network, application, infrastructure, and security. The MSP scans his/her client's full IT status and takes all responsibility for making sure that it's functioning properly.
MSP services can be delivered by employees located at a physical location or over the cloud. Additionally, they can throw in hardware, software, and cloud technology as a part of their contracted work.
See our top 5 benefits of a managed service provider.
Managed IT BOOM
The demand for managed services has grown exponentially within recent years. The global managed services market was valued at $185.98 billion in 2019, and is projected to reach $356.24 by 2025.
This increase in expected growth is a result of small and medium-sized businesses (SMBs) transitioning to the newest technology - to stay competitive in their respective markets. The dilemma for these smaller companies is that although they must sustain their continued growth, these same companies may lack IT budget to meet their goals. Managed services allow a solution, which enables SMBs to play at the same level as middle market businesses, without overextending themselves.
Why Managed IT Services are Useful
There are many shifting parts that keep small-medium businesses (SMBs) up and running and their data safe. This ranges from computers and passwords - to telephones, cloud storage and email security. However, many businesses don't have the time or the resources to deal with the issues that the technical part of the business requires.
This is where an IT managed service expert comes into play. By having a remote provider, your organization receives all the perks of having an IT expert as an employee. This includes having the option to pay for a service only when there are technical difficulties; or a MSP who is hired for full-time responsiveness.
Learn more about the value of a Managed Service Provider and the benefits of an MSP.
Benefits of Hiring a Managed Service Provider
MSPs often handle management services on a daily basis. This allows client organizations to focus on improving their services, without worrying about extensive system shutdowns and service interruptions.
Who Hires Managed Service Providers
Small and medium-sized businesses (SMBs), nonprofits, and government agencies hire MSPs to perform a defined set of day-to-day management services.
MSPs specialize in specific segments of IT, such as data storage, financial services, healthcare or manufacturing. Managed security service providers, for instance, offer specialized types of services, such as remote firewall administration and other security-as-a-service offerings. Unless they are required for an in person meet, MSPs often perform their tasks remotely over the internet.
Read more about Managed Service Providers. Your IT Team's new best friend!
Are Managed Service Providers Better for Small or Large Businesses?
Hiring a managed service provider can help an organization vastly improve its operations.
While MSP's are hired by many smaller companies who have limited in-house IT capabilities (IT expertise), larger enterprises also contract with MSPs. For example, large corporations facing a tight budget and minimal hiring options may contract with a MSP to work with their in-house IT staff.
List of Managed Service Provider Services
MSPs handle the time consuming, foreign, and repetitive work involved in the management of IT infrastructure and end-user systems. MSPs take care of the following:
handle the management of IT infrastructure

offer technical support to staff

add cybersecurity software to IT

manage user access accounts

handle contract management

offer compliance and risk management

provide payroll services
Choosing the Right MSP
There are a few factors you should consider when deciding on a provider:
Credibility and Track Record - There are websites, such as clutchco.co and upcity.com, that display the ratings and reviews of a potential provider. The more positive feedback and happy customers they've served in the past, the higher quality they will be. You can utilize these platforms to help choose the right MSP for your organization.
Consistency – The ability of your MSP to consistently provide quality work over a wide spectrum of topics is invaluable. There are bound to be many minor IT fixes throughout the year. While a provider may have done great work for you once, you will continue to need them; as problems frequently occur in today's business world.
Responsiveness - A breached firewall or an internet outage is a situation that business owner never wants to face. When these things [inevitably] happen, the recovery rate is up to your MSP's skill level and responsiveness. With a responsive MSP, this recovery process becomes a walk in the park.
Look for their area of expertise - Upon searching the list of MSPs in your region, you will find out if they're the right fit for you by specifying each company's areas of competency, who their IT specialists are, and what knowledge they have in areas such as:
System / Network Administrators and Engineers
Network Architects and Managers

Project Managers

Cloud and Office 365

Cisco and Microsoft Professionals

Lync, Exchange and Active Directory

Unified Communications and VoIP
Cloud Management Services - More and more companies are adopting some form of cloud computing function each day. Using a cloud-hosted service provides your company with a solution that is convenient, flexible, and cost-effective. This reduces the need to support any bulky server equipment. Trust an MSP that can migrate documents to the cloud center with ease.
Cost Savings Opportunities -

Partners with a managed service provider are willing to do whatever it takes to you improve your bottom line. High-level MSPs provide affordable network reboots and tuneups, and they complete the necessary work without charging you for more than you need. By becoming a partner with an experienced managed service provider, you will get the benefit of cost savings for as long as you work with them.





Click here to learn about the definitive Cybersecurity guide: Partner with MSSP vs. In-House SOC.
Pros and Cons of Hiring Managed Service Providers
Pros
Change in Model
When an MSP is operating sufficiently, he/she will make sure technical issues do not occur, rather than fixing them after there's an issue. He/she does this by constantly monitoring aspects of IT; such as hardware, applications, security and internet to notify you when there is an issue. You are investing in someone as a preventative measure, rather than someone who can make a quick fix to an IT problem.
Tech Provided
When a plan with the MSP is properly set up, the company provides all the software and hardware for your business; such as workstations, servers and software. This makes it easy on you, and all you have to do is use them and pay for them. Hiring an MSP can be pricey, but in the long run, this means no capital expenditures for tech, allowing your business to allocate resources in other areas.
Expertise
MSPs, in relation to individual staff, have personnel dedicated to each function of IT. This means they are better equipped than a single "computer guy" hired on staff to manage the entirety of the network.
Business Continuity
As a business owner, the idea of your network crashing and losing all your data is daunting - and probably one of your main concerns for your businees. MSP's help put your mind at ease by providing a backup plan. A reliable MSP offers a disaster recovery plan to ensure your business can endure a disaster when it strikes.
Cons
Physical Presence
One downside to signing up with an MSP is that most providers are remote to your business. With physical office issues, there's a chance you won't recive the flexibility of in-person assistance - which means you'll need to find alternative solutions to fix the issue. If you choose a local MSP, they may offer onsite support, but you will usually pay extra for a physical visit to the office.
Cost
When hiring a high level MSP, you will be paying a higher premium than average services - and upfront fees are usually required. Fortunately, this upfront payment will likely save you in other areas, like disaster recovery, and responsiveness to issues that will keep the business functioning optimally.
Scope
The amount of work that an MSP provides will rarely cover each speific area of technology. An MSP often provides a list of applications he/she supports (Microsoft Office, Google Chrome, etc.). If one of the applications is not supported by the customer, you may be out of luck.
What Managed Services are Most Commonly Used?
The most common Managed IT responsibilities include:
Remote monitoring and managing infrastructure and hardware

Security services: monitoring, phishing security, penetration testing, and incident response.

Configuration, monitoring, and management of cloud services. This is in unison either with or outside of managed cloud services.

Communications support
Additional Benefits
Contractual terms
Managed services offer flexibility for contractual terms for IT needs that include service level agreements (SLAs). This means you don't have to spend time hiring, scouting or training IT staff. This additional time allows you to only pay for the coverage or services you need, while avoiding associated costs that come from maintaining full time employees.
Efficiency
By hiring a managed service provider, your company can focus your time and energy on building your revenue. MSP's also provide recommendations to help you optimize the performance of your infrastructure; which leads to increased productivity and improved ROI.
Better Management of Uptime
Managed IT service providers are not tied to the same schedule as your employees. This means providers are often able to perform system updates and maintenance during off-hours. When MSPs are available to work around your schedule, you will have fewer disruptions.
Better Network Security
The best MSPs are proactively monitoring your network at all times of the day, and are able to spot network threats from afar. Should any cyber attacks strike your network, he/she needs to be able to provide immediate backup and disaster recovery support. Partner with an MSP that will keep your most important data and files protected from external risks.
Read more about how to choose a Cloud Service Provider, benefits of a CSP and FAQ.
Managed IT Services: Los Angeles
Datalink Networks has been a leader in the IT space for over 30 years now. We have established a reputation for providing thorough and consistent service in the LA county for the last 3 decades.
Our trusted professionals on the sales and engineering teams contain a vast knowledge of Microsoft, cloud space and email security. Along with these skills, we offer on-site service for connectivity issues, phone services and Microsoft team communication.
If your company is looking for an IT provider, please contact us today.
Contact Datalink Networks