Over the last several years, organizations have become more familiar with managed services and are turning to them for management of certain IT functions, particularly email hosting, storage, backup and recovery, and network monitoring. From better IT support to financial benefits, the value a managed service provider can bring to your organization is unmatched.
What is a Managed Service Provider?
Managed services is the practice of outsourcing IT needs, such as maintaining and updating network security, managing infrastructure, and providing end-user help desks. A managed service provider, also known as an MSP, is the IT organization that takes on this responsibility for clients. Managed services often work off of an all-inclusive pricing model in which the MSP charges one flat rate to manage and monitor all of the IT support the plan offers. They focus on comprehensive solutions, monitor the overall health of an organization's IT environment, and help optimize the overall performance of IT infrastructure. .
Benefits of a Managed Service Provider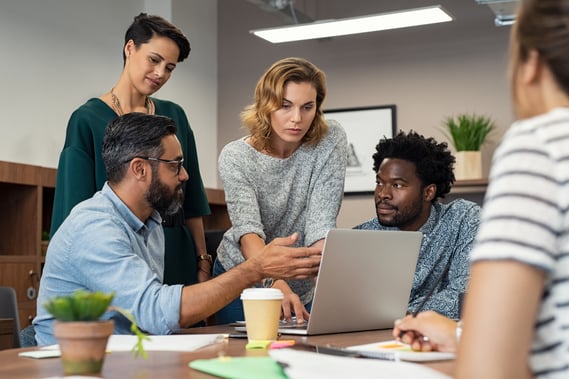 Free up Internal IT Staff
For many organizations, daily ticket items can fill up all of your IT team's time. Between these daily ticket items, monitoring your security posture, and planning ahead for bigger picture IT security, many tasks can be slipping through the cracks.
An MSP can be your IT teams new best friend. By utilizing a managed service provider, your internal staff can focus on their daily tasks, while the MSP takes care of the rest. Not only will your IT team be less overwhelmed with the amount of work piling up, your organization will be better protected as the MSP can fill in security gaps and proactively plan for the future.
Increased Reliability
When you enter into an MSP agreement, you have specific a Service Level Agreement, or SLA, that details all of your services. With this knowledge of commitment in your back pocket, you know that your MSP will always be available and ready to help. Some MSPs, like Datalink Networks, offer extended 24x7x365 support, but others may offer support with a shorter time frame. Regardless of your support timeframe, your MSP is there to help with anything listed in the SLA.
Additionally, by splitting up tasks between internal IT staff and your MSP, you increase reliability that long-term projects will be completed. MSPs often have the latest technology at their disposal, such as remote monitoring tools, that give insights to your organization's security and efficiency. By having a reliable IT team by your side, you can rest easy knowing that if a problem arises, your MSP can handle it.
Increased Security
With 60% of small businesses going out of business within 6 months of a cyberattack, you need to make sure that your organization is as secure as possible. Your MSP will use their advanced toolkit to:
(1) Identify your security posture with in-depth network scans
(2) Find gaps in your security by running penetrations tests
(3) Offer recommendations to secure the gaps
(4) Deploy the solution so your organization is protected
Not only can your MSP help your overall security, they can also ensure that you are complaint with any required regulations for your industry, such as HIPAA. Many MSPs are well-versed in working within these specific guidelines and understand the importance of compliance for both you and your clients.
Related Whitepaper: 3 Reasons Why your SMB needs an MSP
The Financial Value of a Managed Service Provider
Set Monthly Cost
It is estimated that successful deployment of managed services will help in reducing IT cost by 25-45% and increase efficiency by 45-65%. But how? Depending on your SLA, you are likely paying one flat rate for all the IT work that needs to be done within your organization. Because of this all-inclusive structure, it helps limit unexpected costs you might otherwise be facing.

Discounted Hardware and Software
When you go to your MSP to request software or equipment, they turn to one of their partnerships to provide you with models, descriptions, and pricing. Because MSPs have partnerships with a variety of IT vendors and manufacturers, they can lock in the lowest, most competitive price across all other vendors or sites. These savings directly translate into the customer cost, giving them a lower rate than larger IT vendors such as CDW or SHI.

Lower IT Department Costs
By partnering with an MSP, your internal IT department costs should go down. While MSPs are happy to work with your internal IT department, you might find it possible to downsize your current IT team or have no need to hire or train anyone additional employees. You will also have less in house IT-operations as most of them will be covered by your SLA, saving you time and money. Datalink Networks will be able to provide your organization with a cost analysis to see how much money you would be saving in your internal IT department.
Increased Security
With an MSP continually monitoring your security posture and keeping an eye out for anything suspicious, you are less likely to have cybercriminals attack your network. With an average cost of a data breach at $3.86 million as of 2020, an MSP can ensure that your organization has a secured network to prevent malware or other cyberthreats.