11 min read
Microsoft Teams vs. RingCentral : Unified Communications Comparison Guide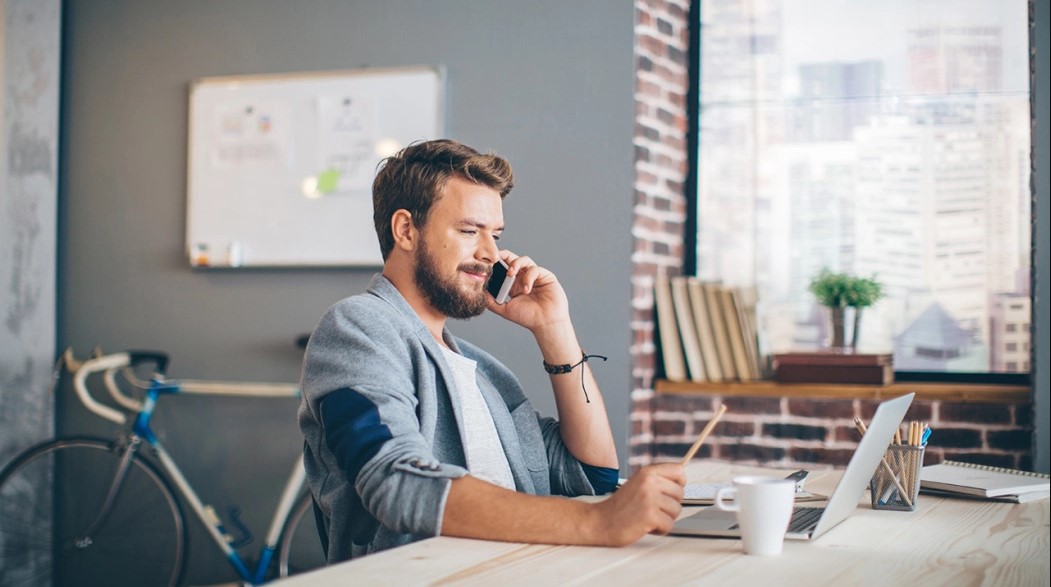 Is your organization considering implementing UCaaS within your organization in 2021? If so, you are not alone. In fact, 67% of organizations are moving significant portions of their unified communications solutions to the cloud.
A shift to UCaaS has proven to see many substantial benefits, especially for today's work-from-anywhere environment, as it allows for ease and reliability when collaborating and communicating. While there are many providers in the market, we have taken Ring Central and Microsoft, the top two competitors in UCaaS (as shown in the Gartner Magic Quadrant) to compare both features and cost.
What is UCaaS?
Before we dive in, you must first understand what exactly UCaaS is and the impact it will have in the workplace moving forward.
UCaaS is an acronym that stands for Unified Communications as a Service, and its popularity is rapidly growing across all industries. For something to be considered a UCaaS platform, it needs to meet two criteria:
1) It must have unified communication features like:
Instant Messaging

Audio and Video

Web Conferencing

Telephone

Collaboration Tools
2) It must be available "as a service", which typically means it comes in the form of a subscription or license that allows access to the cloud-based system.
Now that you understand the criteria for UCaaS, let's look more deeply into our top picks, what they offer, and how to know which is right for your organization.
Gartner Magic Quadrant
Gartner, the world's leading research and advisory company, created a graph based on the UCaaS providers in the market and ranked them on their completeness of vision and their ability to execute. Each quadrant of the graph has a title describing the providers that fall in that category as Niche Players, Visionaries, Challengers, and Leaders.
Neck-and-neck at the top of the charts, far surpassing everyone else, is Microsoft Teams and RingCentral, the two UCaaS providers we will be discussing in this blog. While Microsoft Teams is slightly higher in their ability to execute, RingCentral is slightly ahead in completeness of vision. While you can't go wrong with either of these options, let's look into the features they each have.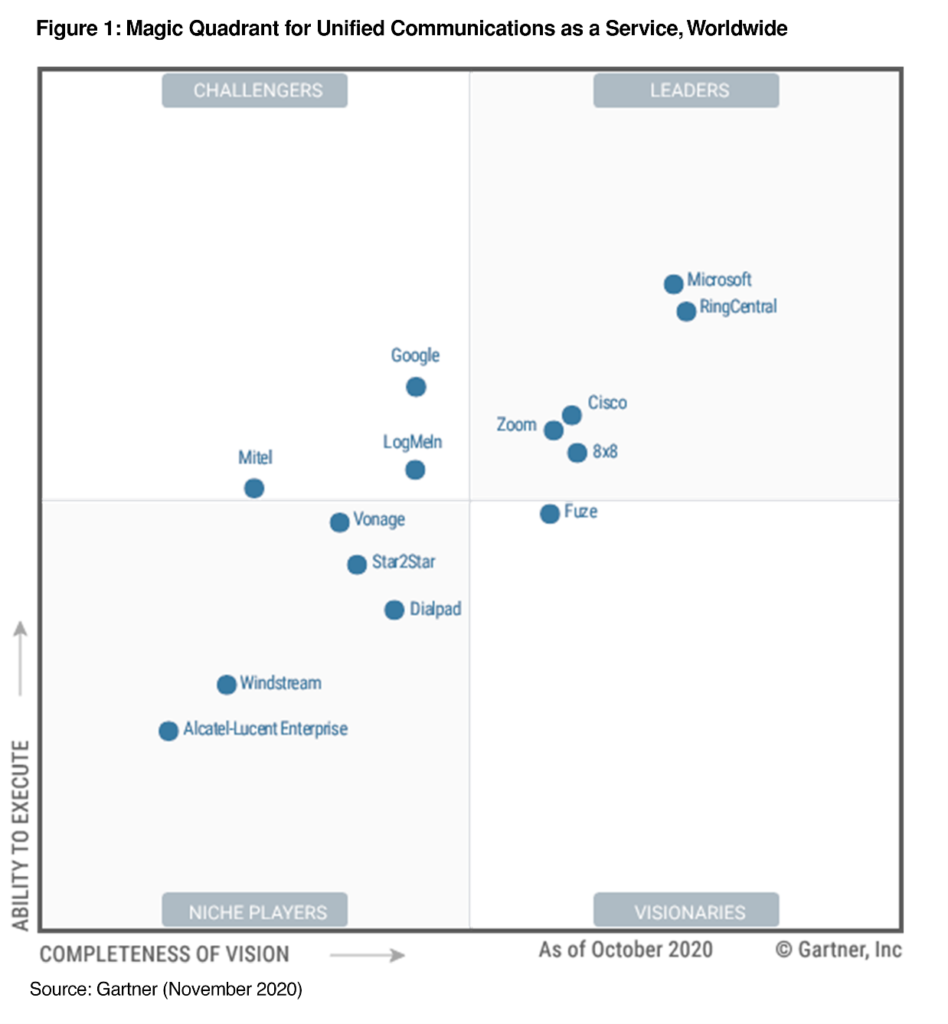 Microsoft Teams v. Ring Central Features
Microsoft Teams
Microsoft Teams, although most commonly known as a web conferencing and collaboration platform, meets all the criteria to be considered UCaaS.
Microsoft Teams has communication tools such as individual and group messaging, audio and video web conferencing, presence, and a cloud-based phone system.
Instant messaging includes features such as a delivery option to mark messages as urgent or important, attach documents, and use GIFs or Emojis for personalization. When web-conferencing, you can change your background, screen share, record meetings, use a whiteboard, take notes, and more.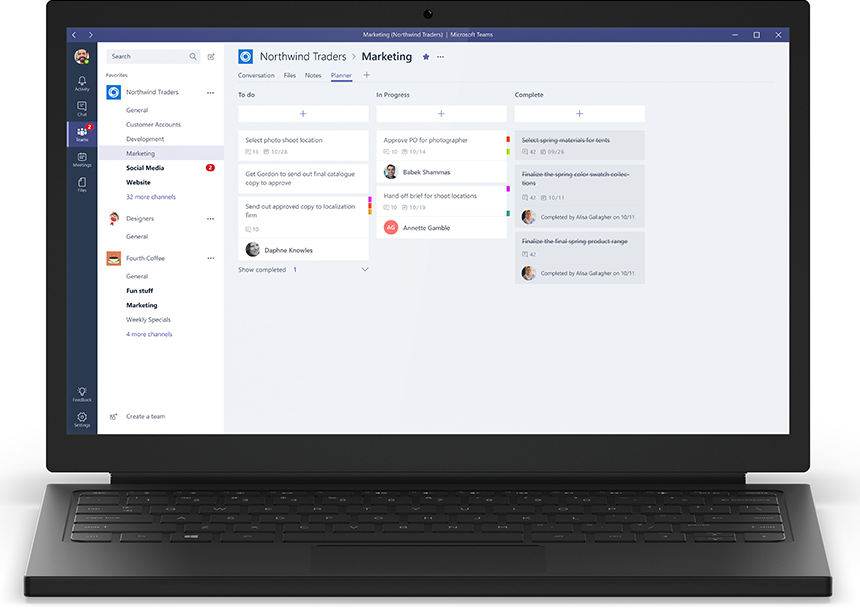 Presence is automatically updated based on if you are actively using teams, are idle, or are in a meeting. Presence can also be manually updated and can be set for any specific duration of time along with a message. The cloud-based phone system can be set up to have an auto-attendant, forwarding rules, dual ring, and other settings that may be useful for your organization.
In addition to the communication features, Microsoft Teams has significant collaboration tools. It includes all web versions of office applications like Word, Excel, and PowerPoint directly through the Teams app. You can create new documents through Teams or upload old ones and share with specific groups of people. These documents can all be co-authored to allow for multiple people in your organization to work simultaneously, with edits shown in real-time. You can also create tasks for yourself and others within your Team including start and due dates, details, a check list, and color coding to keep track important to-do's.
Microsoft Teams also has extensive integrations with over 600 applications in the app store. Whether you want an HR bot, to integrate your payroll system or keep track of tasks, Teams has applications for almost everything! If there's a specific program you use frequently, check out the Microsoft Teams App Store to see if there is an app that can be integrated.
RingCentral
RingCentral is globally recognized and has quickly become a leading provider of software as a service, or SaaS, solutions for business communications. With its innovated cloud-based approach, RingCentral can provide customers with flexible and cost-effective solutions anywhere and anytime.
In terms of communication tools, RingCentral has messaging, web conferencing, presence, and a cloud-based phone system. You can message groups or individuals both inside and outside your organizations, as well as send business texts from your RingCentral number, keeping your personal number private.
Video calls can be made directly from messaging, or you can invite participants via text message or email. You can also add additional people during a meeting at the touch of a button.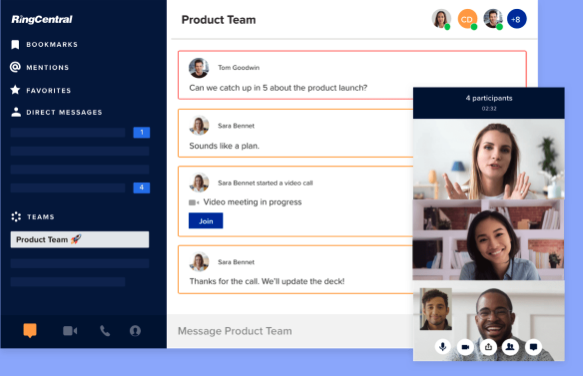 With web-conferencing, you are able to share your screen, record the meeting, and send messages that can continue after the duration of the call. Automated presence allows colleagues to see if you are available, busy, or away before calling.
All good UCaaS providers have features for collaboration and RingCentral is no exception. Beyond sharing documents during a video call, you can also share them by dragging and dropping them within a group conversation. Additionally, you can pin and organize commonly used documents for your team to reference or use the notes section to create collaborative documents with multiple contributors. based phone system is quick to deploy, easy to use, and has a significant number of settings like auto-receptionist, shared lines, and extensions to create the perfect system for your organization.
Like Teams, RingCentral can have hundreds of applications integrated within your system. You can create your own integration, or additionally you can choose from one of their existing application integrations. Check out their app store to see if any platforms you regularly use can be integrated.
Microsoft Teams v. Ring Central Pricing
Microsoft Teams
Microsoft Teams, and all their respective features, is included with all Microsoft 365 licensing
Microsoft Teams is included with all Microsoft licensing, and is available to choose between three different options: Microsoft 365 Business Basic, Microsoft 365 Business Standard, or Microsoft 365 Business Premium. Each of these licenses comes at a different cost and includes different features.
Business Basic - $5.00/user/month. This includes web and mobile versions of all Office Applications, Outlook, OneDrive storage, Teams, and more.
Business Standard - $12.50/user/month. This includes everything in Business Basic as well as desktop versions of all office applications for Mac or PC, up to 5 devices per user.
Business Premium - $20.00/user/month. This includes everything in Business Standard as well as advanced security features and device management.
With Microsoft Teams, a phone system can be added on to any of these license levels. If you do want a phone system, you can purchase Microsoft Business Voice Licenses for an additional $8/user/month which gives each license a phone number as well as a dial-in number for audio conferencing. Then, you can purchase a calling plan for between $4.95-$12.00/user/month depending on the provider to enable domestic and international calling minutes. Essentially, Microsoft Business Voice allows you to have a phone system, but the calling plan allows you to use it.
RingCentral
RingCentral also has a variety of plans to choose from. Depending on the number of users you have, you can choose between: Essentials, Standard, Premium, or Ultimate. These all come at different cost and include different features.
Essentials- 19.99/user/month. This plan is only available if your organization 10 users of less, and includes business phone and toll-free numbers, unlimited calls within the US and Canada, unlimited business SMS, voicemail-to-text, document sharing.
Standard- $27.99/user/month. This includes everything from essentials plus unlimited internet fax and audio conferencing, up to 24-hour meeting duration, quality-of-service reports, popular integrations, and 24/7 support.
Premium- 34.99/user/month. Their most popular plan, which includes everything from standard plus automatic call recording, single sign-on, multi-site admin and management, up to 8-digit extensions, video meetings with up to 200 participants, industry specific integrations, and more.
Ultimate- 49.99/user/month. This plan includes everything in premium plus device storage report, device status alters, and unlimited storage.
RingCentral vs Microsoft Teams : Which should you choose?
If you are choosing between Microsoft and RingCentral as your UCaaS provider, you really can't go wrong. Each have similar features and can significantly improve productivity within your organization. While it may be tough to choose between them, here are a couple things to consider.
Microsoft Teams
Your organization may want to go with Teams if:
Your organization already has Microsoft Licensing

You want to pick and choose which users have specific features like some users who have a phone system and other who don't

Collaboration features are really important to your organization as it has more integrations, more features, and allows for more seamless teamwork
RingCentral
You may want to go with RingCentral if:
Your organization uses Gmail or another email provider and you do not want to switch

You want one, all-inclusive price for all your users

Texting from a phone number, instead of just instant messaging, is important to your organization
Contact Datalink Networks