6 min read
The Definitive Cybersecurity Guide: Partner with MSSP vs. In-House SOC
Topics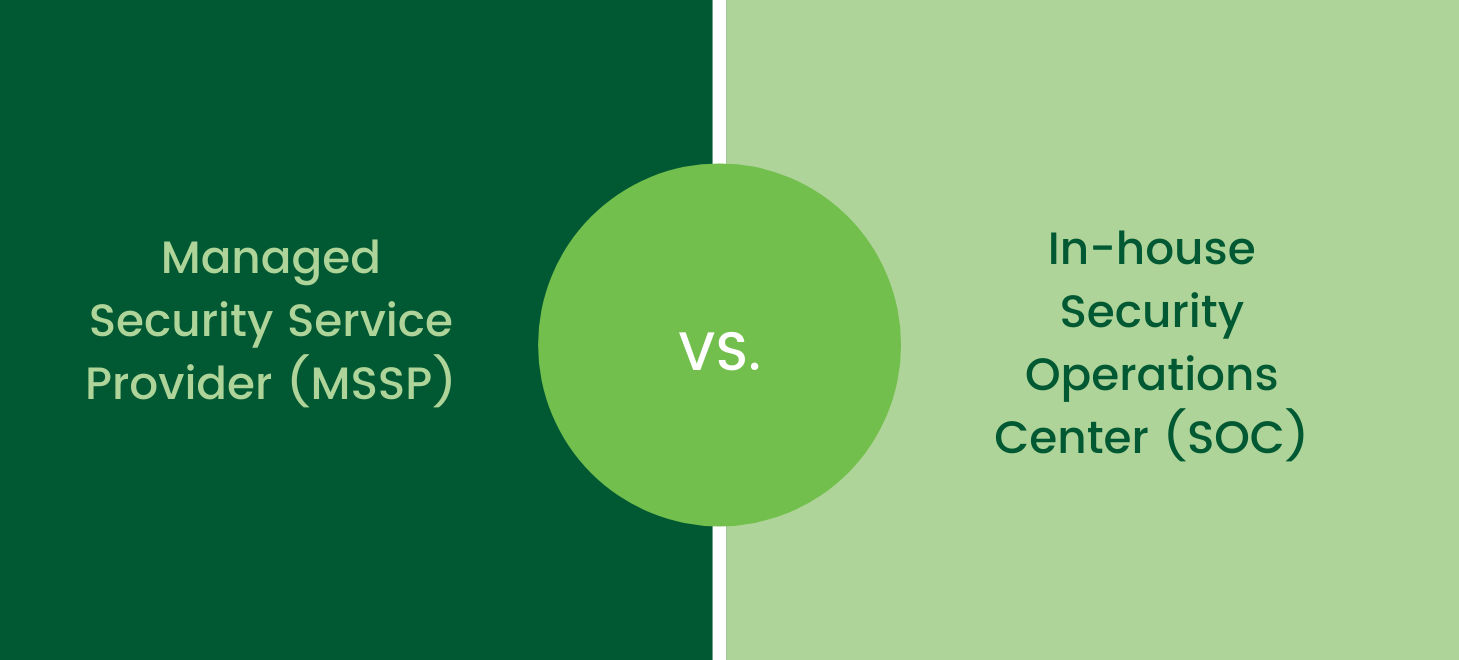 Deciding to create an internal Security Operations Center (SOC) versus selecting a Managed Security Service Provider (MSSP) to resolve operational security information issues can be a challenging and time-consuming initiative for organizations seeking to strengthen their security posture. This post will explore the advantages and drawbacks of both choices and provide background to help build a SOC and pick an MSSP.

What is a Managed Security Service Provider (MSSP)?
A managed security service provider, or MSSP, is a third-party IT partner that provides outsourced monitoring and management of security devices and systems.
Common services that an MSSP provide organizations include a mix of the following:
- Managed Firewall
- Virtual Private Network
- Vulnerability Scanning
-Intrusion Detection
MSSP's typically also use a security operations center (SOC), to provide 24/7 monitoring services. The purpose of this is to reduce the number of operational security personnel that an enterprise needs to hire and train
Read about the value of a Managed Service Provider and its benefits!
Managed Security Service Provider vs. Managed Services Provider
In a nutshell, a Managed Service Provider (MSP) ensures your IT infrastructure is operational, while a Managed Security Service Provider (MSSP) offers security as a service, where a team will work 24x7 to ensure your organization's systems are safe, secure, and compliant. To see what plan will work for your organization request a free consultation today.
| | |
| --- | --- |
| Managed Service Provider (MSP) | Managed Security Service Provider (MSSP) |
| Primarily focuses on ensuring your IT infrastructure is operational | Primarily focused on IT security and compliance |
| Ensures your IT infrastructure and data is available to your employees and customers | Prevents, detects, and responds to threats across your infrastructure, network, and applications |
| Provides bug fixes and updates after threat detection | Predicts, scans, and analyzes new threats and provides solutions |
Partnering with a Managed Security Service Provider (MSSP)
Choosing to partner with the right managed security service provider, is a tough choice for any organization. Before making this decision, your internal IT team must consider your organizational needs first before you agree to partner with an MSSP.
Some examples of why organizations opt to partner with an MSSP to support security operations include:
1. Avoid Recruiting and Hiring Costs of IT Staff
2. IT Team is understaffed and need more resource to manage network
3. You cannot risk having an internal SOC
By listing out your needs prior to contacting an MSSP, your team is able to narrow down the options by being familiar with what MSSP service will better fit your needs.
What is information security? Click here to read about our Cyber Security 101 guide!
Following are examples of service provided by MSSPs:
1. Monitor Only- alerts and informs clients on security incidents
2. Monitor and Manage- track log data and adjust the environment
3. Manage Product - modifications to a security system such as a firewall.
What is a Security Operations Center (SOC)?
A Security Operations Center, or SOC, is a centralized entity that deals organizationally and technologically with security incidents. Normally, this includes a variety of resources, procedures, and staff that are committed to the identification, prosecution, and investigation of security incidents.
To build an effective SOC the following components are essential:
Technology - Includes essential security tools like a SIEM that can help deal with security incidents
People- Incorporates SOC analysts, incident responders, or CSIRT
Processes - Efficiently investigate and manage a security incident
Read our guide about how to build your multi-layered security plan.
Benefits of Building In-House SOC
In fact, according to The State of Security Operations 2020 report, 64.6% of IT security operations and services are now hosted in the cloud.
1. Cost-Effectiveness
Employee salaries can be a company's biggest cost within their budget. For highly skilled cybersecurity professionals this requires a huge up-front cost and ongoing investment. By adopting a SOC model, your organization will be paying for a service with clear terms and less liability.
2. Build Customer Trust
According to the cybersecurity software company, Blue Voyant, today's attacks are sophisticated, fast-moving, and evolving. Because of this SOC needs to be equally sophisticated and fast-moving. With so little room for error, putting a security operations center to work monitoring systems around the clock provides a sense of trust to all those who rely on the network and data.
3. Minimize Downtime
According to a Netwrix 2020 Cyber Threats Report, 25% of organizations reported ransomware or other malware attacks in the first three months of the pandemic. As a result, this caused an increase in downtime for numerous companies. Using a SOC can minimize those effects and shorten the time to incident resolution
Read more about Managed Service Providers. Your IT team's new best friend!
Conclusion
There is no doubt that deciding whether to build an internal SOC, opting to partner with an MSSP, or deciding to introduce both to your organization can be a challenge that will involve hours of research and discussion.
Prior to making a decision, your organization will need to consider its budget, security posture, and skills. Because either program can be costly for your organization it is crucial for your team to assess all the pros and cons of each option.
For help on determining what solution and program will work best for your organization contact Datalink Networks today for a free consultation.
Contact Datalink Networks