8 min read
What is Windows Virtual Desktop? - Benefits and Requirements of WVD 2021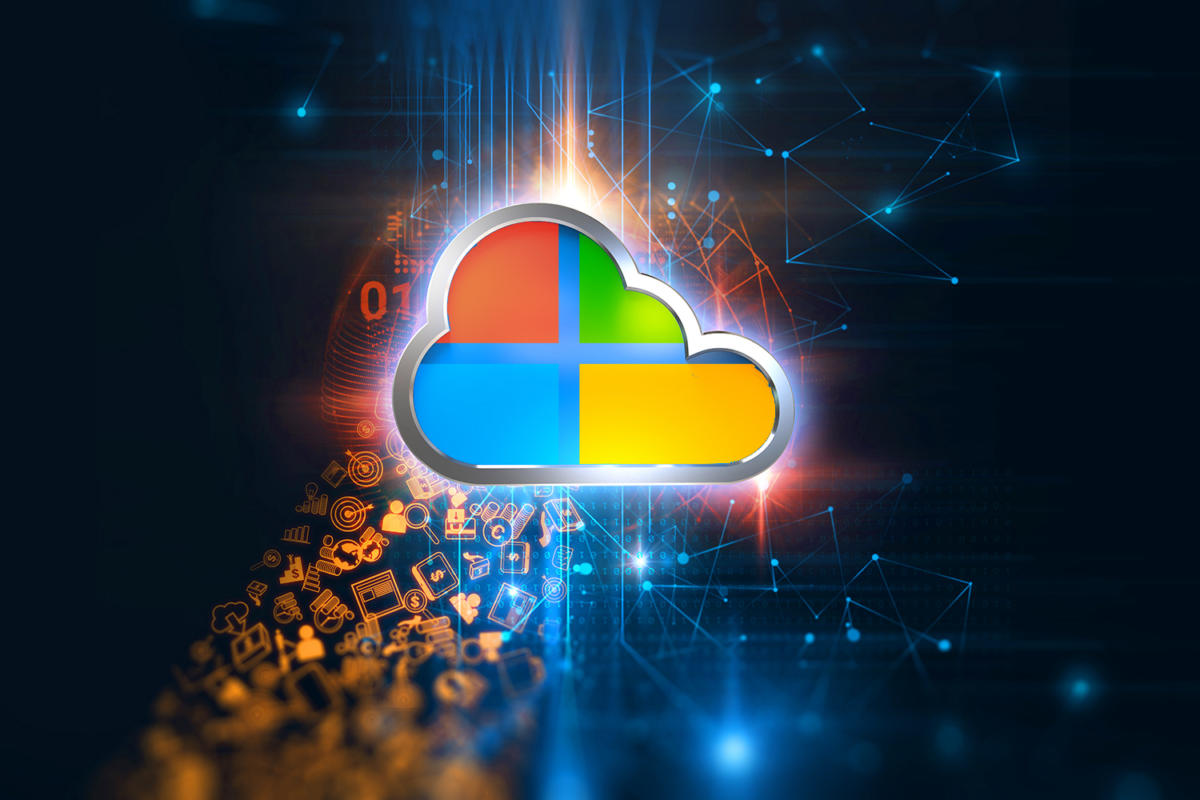 Today, work-from-anywhere is becoming increasingly common amongst professionals. With big tech companies, like Facebook and Apple, allowing their employees to permanently work from home, it is clear that this trend isn't going anywhere. Studies have even shown that 62% of employed Americans have worked from home during the COVID-19 Crisis and 59% of remote worked would work remotely as much as possible if their employer let them. With your employees working remotely, it is important that they have access to their documents, files, and software easily and securely. If you don't already utilize a Windows Virtual Desktop, this might be the answer you are looking for.
Read about Henkel and Microsoft Office 365 modern desktop!
What is Windows Virtual Desktop?

A virtual desktop is a full desktop that runs on a remote server. This means that everything that would be locally stored on your desktop such as your folders, software, toolbars, and more are saved and stored in the cloud. This allows users to access their personal desktops anywhere and on any device through the cloud.
Windows Virtual desktop is Microsoft's own virtual desktop service. This service runs on Microsoft's cloud platform, Azure, and lists a variety of capabilities can be done through the service including:
Creating a full desktop virtualization environment without any additional gateway servers

Publishing unlimited large host pools as needed

Set up a multi-session Windows 10 deployment that delivers a full Windows 10 with scalability

Virtualize Microsoft 365 Apps for enterprise and optimize it to run in multi-user virtual scenarios

Provide Windows 7 virtual desktops with free Extended Security Updates

Bring your existing Remote Desktop Services (RDS) and Windows Server desktops and apps to any computer

Virtualize both desktops and apps

Manage Windows 10, Windows Server, and Windows 7 desktops and apps with a unified management experience
Windows Virtual Desktop vs. Remote Desktop
Remote Desktop Services, or RDS, is a virtualization service where the Windows software along with the entire desktop of the computer running RDS are accessible to any remote client machine supporting Remote Desktop Protocol (RDP). Thereby providing secure, mobile and remote desktop access to users and also to run applications and desktops. .
While both Windows Virtual Desktop and Remote Desktop Service can accomplish the same task, there are many differences between them that may sway your organization one way or the other. For a free consultation on what service is right for your organization, contact Datalink Networks today.
See essential devices for your employee's home office setup in this article.
Benefits of Windows Virtual Desktop
1. Flexibility and Scalability
Windows Virtual Desktop (WVD) allows users to access their personal desktop, along with all their files and data from any device or location, providing flexibility to those within your organization. When employees need to work remotely or have a hybrid schedule, WVD allows them to simply access their desktop without lugging a device between their homes and work. This has become crucial for organizations during the COVID-19 pandemic as organizations across the world adjust to the new normal of remote work environments.
Along with increased flexibility for individual employees, Windows Virtual Desktop enables organization to easily scale up or down.. When rounds of hiring or layoffs occur within your organization, you do not have to worry about setting up or tearing down infrastructure, creating new images, or deploying apps. Upsizing, downsizing, or simply re-organization is simple through Windows Virtual Desktop.
2. Cost Savings
The simplicity that Windows Virtual Desktop brings your organization directly translates into saving from a variety of different sources. First, by maintaining your infrastructure through Azure you can pay 5 times less compared to AWS or other cloud platforms. By using the cloud instead of on-premise infrastructures, you can save money on power and reduce the physical footprint.
Additionally, Microsoft has a scaling tool called Azure Automate which can save you money on your Windows Virtual Desktop deployment costs by shutting down and deallocation sessions during off-peak usage hours and turning them back on reallocating them during peak hours.
With less infrastructure, your organization will require less labor to maintain it. This will save you money on labor costs and allow your IT team to focus on their day to day tasks or long-term projects. On the same note, you will have reduced maintenance costs as all upgrades and maintenance will take place through one central unit and cover all desktops at once, rather than over several individual machines.
As mentioned previously, Windows Virtual Server is compatible with nearly any device. This allows your organization to implement a "bring your own device", or BYOD, policy. By requesting that your staff purchase their own tablets, computers, or other devices, your organization can save money purchasing devices, an annual cost of roughly $350 per worker. While there may be security concerns with this type of policy, it may be something for your organization to consider.
3. Enhanced Security Features
Windows Virtual Desktop provides a high level of security for your organization. This service runs through the Azure Cloud which has top-notch security features. In fact, Microsoft invests $1 billion annually on cybersecurity and has thousands of security experts to ensure user data security. Additionally, Windows Virtual Desktop is always up to date, and will continually have the latest security features that Microsoft offers.
While Microsoft does what they can to make their platform inherently secure, they also have a guide with best security practices for Windows Virtual Desktop. This guide includes enabling Azure Security Center to manage vulnerabilities and assess compliance, requiring Multi-Factor Authentication for all users and admin, and enabling conditional access to manage risk.
Learn about Microsoft Office: made for achieving!
Requirements of Windows Virtual Desktop
In order to set up a Windows Virtual Desktop, you need to ensure that your organization has compatible operating systems and licensing for your users as shown in the chart below.
| | |
| --- | --- |
| Operating System | Required License |
| Windows 10 Enterprise multi-session or Windows 10 Enterprise | Microsoft 365 E3, E5, A3, A5, F3, Business Premium Windows E3, E5, A3, A5 |
| Windows 7 Enterprise | Microsoft 365 E3, E5, A3, A5, F3, Business Premium Windows E3, E5, A3, A5 |
| Windows Server 2012 R2, 2016, 2019 | RDS Client Access License (CAL) with Software Assurance |
Additionally, your organization's infrastructure needs to meet the following criteria to support and connect to your Windows Virtual Desktop:
Azure Active Directory

Windows Server Active Directory in sync with Azure Active Directory (Azure AD)

Azure Subscription with a virtual network containing or connecting to the Active Directories

User must be sources from same Active Directory that's connected to Azure AD

UPN subscribing to Windows Virtual Desktop must exist in the Azure AD domain
When you create the Azure virtual machines for your Windows Virtual Desktop, they must be joined with either a standard domain or a hybrid active directory. IT must also be running one of the supported operating system images.
Here is our definitive guide to Microsoft Azure proof of concept (POC).
This diagram from Microsoft shows their typical setup for Windows Virtual Desktop.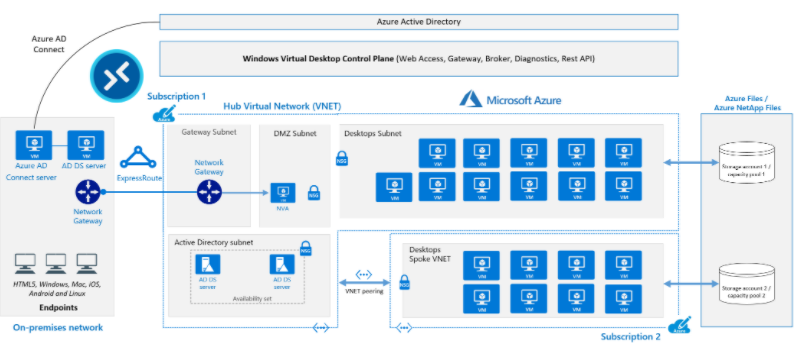 Conclusion
Overall, Windows Virtual Desktop is a relatively new but exciting system brought to the marketplace by Microsoft. While Remote Desktop Services are the veteran service for remote desktops, they do not have quite the same supported features that Windows Virtual Desktop boasts, and the cost can be higher. Provided your organization meets the infrastructure requirements for a Windows Virtual Desktop, it can bring huge benefits including increased savings, more flexibility, and increased security. Contact Datalink Networks today for more information.
Contact Datalink Networks