8 min read
Definitive Guide to Microsoft Azure Proof of Concept (POC) - Azure 101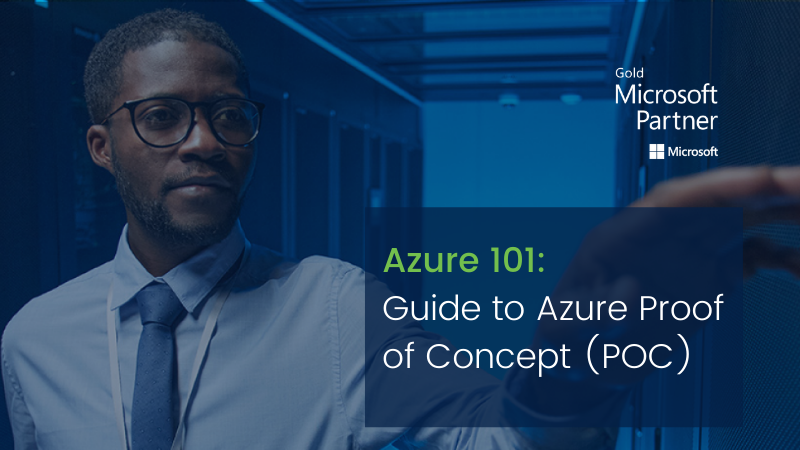 Moving to the cloud has been a hot topic of discussion for organizations across the world. While 85% of Fortune 500 companies are on Microsoft Azure, how do you know if it's right for you? Through a Microsoft Azure Proof of Concept (POC) your organization will be able to determine if migrating to the cloud is the best decision for your business.
What is a Proof of Concept (POC) in Cloud Computing?
A cloud computing POC, or proof of concept, is a way to allow users within an organization to test a product or service within a virtual cloud environment before fully purchasing the service. Proof of concepts are used to ensure a client of how a certain service or software will work once it is deployed within their organization. These are often used in the sales process as a way to offer end users a hands-on opportunity to test the tools within an environment identical to their specific organization. This demonstrates the feasibility of the product and can help prove that it will work to solve identified pain-points using real organizational data.
Read about Microsoft Azure Labs. Benefits of Azure labs in education.
Key Benefits of Azure Proof of Concept (POC)
Many organizations are interested in moving to Microsoft Azure due the immense benefits included such as:
Flexibility and Scalability
Microsoft Azure automatically grows as you grow, so your IT team doesn't need to spend time manually scaling the resources. Everything is based within Azure, so there is no need for you to purchase new hardware, network items, or other products.
Cost Effective Model
With Azure's billing model, you only pay for the resources you consume due to its pay as go model. This can help your IT budget better with the reduced and expected costs.
High Security and Compliance
Data stored in Azure is protected by an advanced encryption process, multiple layers of security, and two-tier authentication. This will help you maintain privacy and integrity to your organization data. If you need to be compliant with organizational standards, Azure and Microsoft also offer 35 compliance offerings for organizations in key industries such as education, finance, government, healthcare and more.
---
While we can understand the benefits of Microsoft Azure, what are the benefits of an Azure POC? A proof of concept by design is a low risk way to test a product or service prior to purchasing it in full. A Microsoft Azure POC can be geared towards a specific problem or scenario you are currently facing, and allows you to test solutions in a defined and identical environment without fully committing to the product. Proof of concepts are much lower in cost than that of an entire cloud migration project. This will allow you to gain insights and make a more informed decision on whether or not to move forward with a project and save you money in the event it doesn't work out. Additionally, a POC can help you get buy-in from upper management by showing the value of the solution before spending that higher upfront cost on the project.
How to Conduct Azure Proof of Concept (POC)
Microsoft Azure proof of concepts can be completed by your internal IT staff or by a third party IT service provider, like Datalink Networks. The basic steps for conducting a POC are outlined below:
1). Identify Goals of Azure POC
What pain-point are you hoping to solve with an Azure POC? Whether you're hoping to host high-resource applications on a remote desktop or want a more secure and compliant environment, it's important to identify and communicate your goals with your IT provider. Your provider will help set you up for success by ensuring the right tools are in place when building your virtual environment.
2). Organizational Approval from Key Stakeholders
Before advancing in the proof of concept stage, your team will need organizational approval from key stakeholders such as upper management. Both you and your IT provider will want to make sure that all actions taken within your tenant are compliant and legal as to prevent any potential issues or damages. Providers offering these proof of concepts are typically happy to sign an NDA if required by you, your upper management, or your legal team. As mentioned, getting approval for a POC should be easier than the overall project itself as it is less costly and will provide real data on the feasibility of the project.
3). Understand your Network
To properly build your virtual environment with the appropriate security measures, your provider will need to have a good understanding of your network. Based on the goals you identified for your proof of concept you will need to provide information regarding specific resources, such as storage and computing if infrastructure is a focus, or MFA and permissions if accessibility is a focus. If you don't have this information, your IT provider can likely run a scan of your environment to gather it with your permission. This will help them develop your proof of concept in a way that can make it most successful.
4). Develop a Plan
Prior to executing your proof of concept, it's important to develop a plan for it. What would success look like? How do we verify that the solutions are fixing the problems? These are important questions to consider as they can change the process, such as adding in simulated attacks if security is a concern. Based on your goals, it's also important to identify the proper administrators for each workload and resource. Specific actions to take should be defined for each user and the IT provider should ensure that they have the proper permissions. Finally, a timeline should be built to indicate how long it will take for the environment to be built, how long it should take to know how successful it is, and when the proof of concept will be completed. At the end of the plan is the time to determine if you'd like to move forward with a full cloud migration or cloud build project.
5). Execute and Monitor
Based on the plan developed with your IT provider, they will execute the build of your test environment so it's identical to your current one and set up the proper requirements. Your IT internal IT team will also need to follow through with the actions to be taken on your side. As actions are taken, monitor the progress of the pain-points you initially wanted to solve. You can use the Log Analytics tool in the Azure portal for writing log queries and analyzing data as well as the Network Performance Monitor to monitor network performance between points in your infrastructure and connectivity application endpoints. Identify what's working well, what isn't, and be transparent with your provider. If something isn't working well, they may be able to adjust the backend settings or implement new solutions for you to try.
6). Review and Decide
After your Microsoft Azure POC is completed, you should have an understanding if Azure will work for you in the long run or not. Review the information collected and make an informed decision on whether or not you'd like to move forward with a cloud migration or not.
Find out how to move to the Cloud with Azure.
Next Steps?
A Microsoft Azure POC can help your organization decide whether or not to move forward with a full cloud migration project. Not only is it a much less costly endeavor, it allows you to test the solution in an environment identical to your own to prove it can solve your problem or pain-point. This can also help you get buy in from upper-management as you will have real data to provide on the value moving to the Azure cloud will bring your organization. Contact us today to schedule your Azure Readiness Assessment and your Azure Proof of Concept.
Contact Datalink Networks