12 min read
Best Microsoft Office 365 Backup Solutions Comparison GUIDE [2023]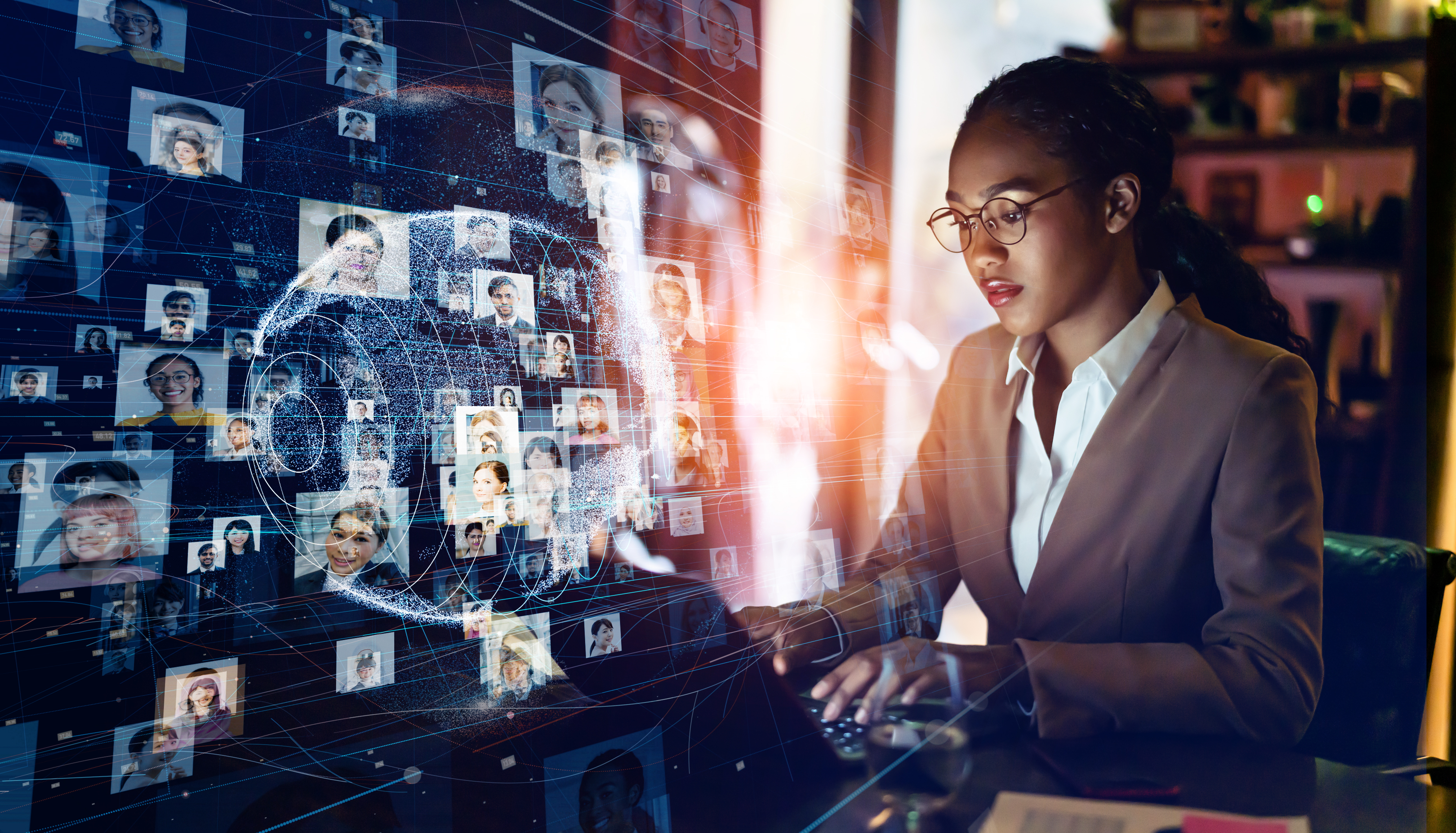 For an organization running Microsoft Office 365, backing up your data is crucial. Microsoft's has many advanced security features, but data loss is a common issue among many users.
The reasons for data loss can stem from external threats, connection issues or accidental data deletion. Your company must keep its data secure to avoid financial and reputational disaster. In this blog, we will explore why backing up Office 365 is important, features you should look for when searching for a backup solution, and my top recommended solutions.
Learn more about Microsoft Office. Made for achieving!


What is Microsoft Office 365 Backup?


Contrary to popular belief, Microsoft is not responsible for protecting the data you keep within Microsoft Office 365. This means that data can easily be lost through malware encryption, malicious users, and natural disasters. Because Microsoft is not responsible for data loss during, they recommend using a third-party service for backup.
Office 365 backup is a recovery solution designed specifically for your Microsoft Office 365 data. This type of backup is purchased and stored independently from Microsoft. What you pay for with this 3rd party is the ability to restore data quickly and on a macro and micro level. Office 365 backup spans through the variety of applications Microsoft uses including OneDrive, SharePoint, Exchange Online, and Microsoft Teams. With 3rd party backup, if your organization loses data for any reason, it can be restored quickly. This gives your organization the assurance that no matter what happens, your data is safe.
Ransomware and Data Breach


A recent report discovered threats in Office 365 have grown by 63% over the last two years. Microsoft's 2020 Digital Defense Report also displayed that ransomware was the single highest cause of incident response engagements from October 2019 to July 2020. As threat of attacks continue to rise, having a strong backup and recovery solution is more important than ever to restore your data in case of a breach.
Microsoft 365 Backup Features


When choosing a backup and recovery provider for your Microsoft Office environment, these are the features you want to look for:


Automated Backup


Having to manually backup your data can render a backup system less effective and efficient. Automated backups take snapshots of all covered Microsoft applications, like OneDrive, to ensure that your data is protected on a regular cadence. Some backup providers have limited number of times per day a snapshot can be taken, while others allow you to choose the quantity and the time these snapshots can be taken. The more often snapshots are taken, the more secure your backup will be.


Quick and Easy Recovery


Being able to recover your data easily is just as important as having it backed up. Ensuring that your solution has a fast restoration time from the latest point-in-time snapshot can help your organization get back up and running after a disruption. It is important to make sure your solution can recover either all the data within a single shot. Additionally, your provider should be able to restore data with all files and folders in their correct places, leaving things exactly as they were before.


Security and Compliance


If your organization is required to follow compliance standards such as HIPAA or NIST, an Office 365 backup and recovery solution can ensure you meet certain requirements they issue such as long-term data retention. By choosing the correct backup solution, your company will meet compliance requirements and ensure that the security surrounding your backup is strong. Encryption for data that is both at rest or in transit is a key factor in protecting the sensitive information residing within the backup snapshots.
Easy Management
As your backup solution is running in the background, it's a good idea to periodically check on it as well as the health and status of your servers. Having the native ability to view and manage your backup solution gives you visibility and the information needed to make network changes as problems arise.
Unlimited Storage
When backing up your Microsoft data, you want to make sure you have it backed up all the way with as much storage as required. As your organization grows and more data is collected, it is important to ensure you don't run out of storage, leaving you with incomplete backups or higher costs for the amount of data stored.
Read about securing Office 365 with a second layer of protection.
Best Microsoft 365 Backup Solutions


There are several different Office 365 backup solutions. The 4 below are the most beneficial for businesses and in the following sections I will explain why.


Barracuda Networks Microsoft 365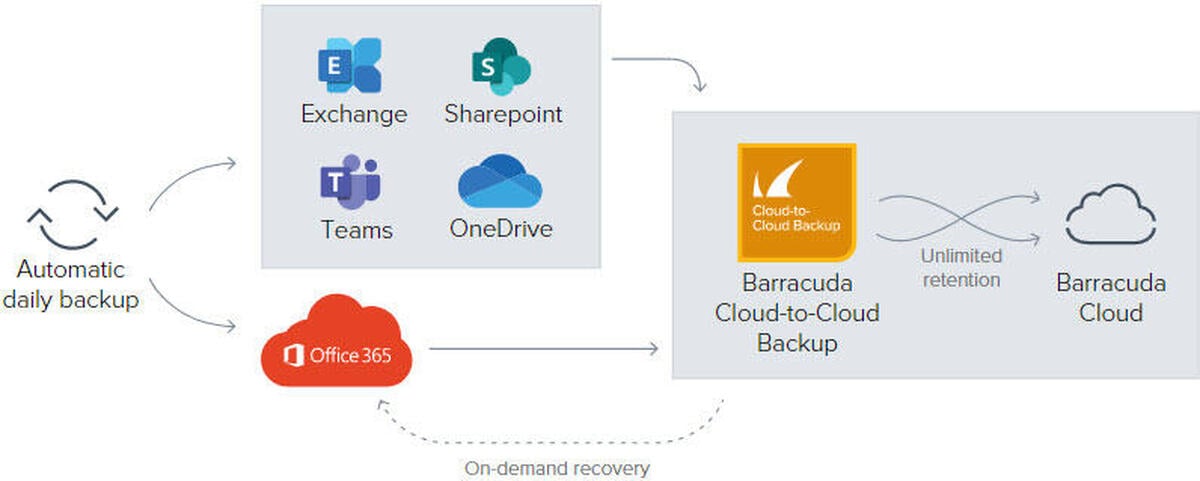 Barracuda Networks is a powerhouse in the O365 backup market. They offer consistent service to over 200,000 company customers, offers cloud-to-cloud backup for Office 365 which covers Exchange Online, OneDrive, and SharePoint online.
Barracuda Cloud-to-Cloud Backup offers complete, granular protection of your data with point-in-time retrieval, and both scheduled and on-demand backup. In addition their service allows you to set your own retention policies, manage all backed-up servers, network traffic, and more.
Other features included with Barracuda are critical servers that back up your data every 15 minutes along with AES military-grade encryption. Along with this, If there are any technical issues with your O365 platform, Barracuda has your back at all hours of the day or night, with reliable 24-hour tech support.
For more info on Barracuda and its backup features click here:


Datto SaaS Protection/ Backupify
Datto, also known up as Backupify is one of the leading options in the backup 365 backup options available in the market for small businesses. Datto's SaaS Protection for Microsoft 365 automates three complete backups per day and can provide a fast restoration for both the full data environment as well as on a granular level. Similar to Barracuda's solution, administrators can check in on the backup status, audit logs, anywhere at any time.
Automated point-in-time SaaS backups capture relevant changes across both Microsoft 365 and Google Workspace in their entirety.
New user detection and automated archiving for former employees helps to manage lifecycles and save your organization money on licensing. Additionally, if your organization requires you to follow compliance standards, Datto encrypts both data at rest and in transit while supporting HIPAA compliance needs.
Datto does not sell directly to end-users. Datalink Networks has Datto services and can help you determine whether this solution is right for your organization. Chat with us today to book a demo today.
For more detailed info on Backupify, Click Here:


See how to take complete control of your Microsoft 365 with Managed Services!
Arcserve Cloud Backup for Office 365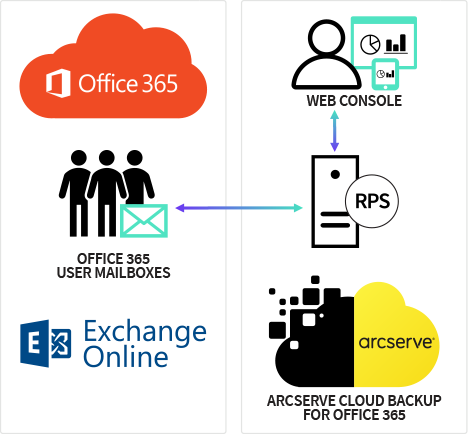 Arcserve's Cloud Backup for Office 365 offers a robust cloud-based solution that mixes backup and recovery with cybersecurity. Integrated with award-winning endpoint protection, Sophos Intercept X advanced, this solution enhances the security of your offsite data to neutralize malware, exploits, and ransomware. AWS encryption and role-based access control also help improve security and meet your organization's compliance requirements. The management interface is user-friendly with automated failover and failback in LAN, WAN data replication, and instant bare metal restore.


Veeam Backup for Microsoft Office 365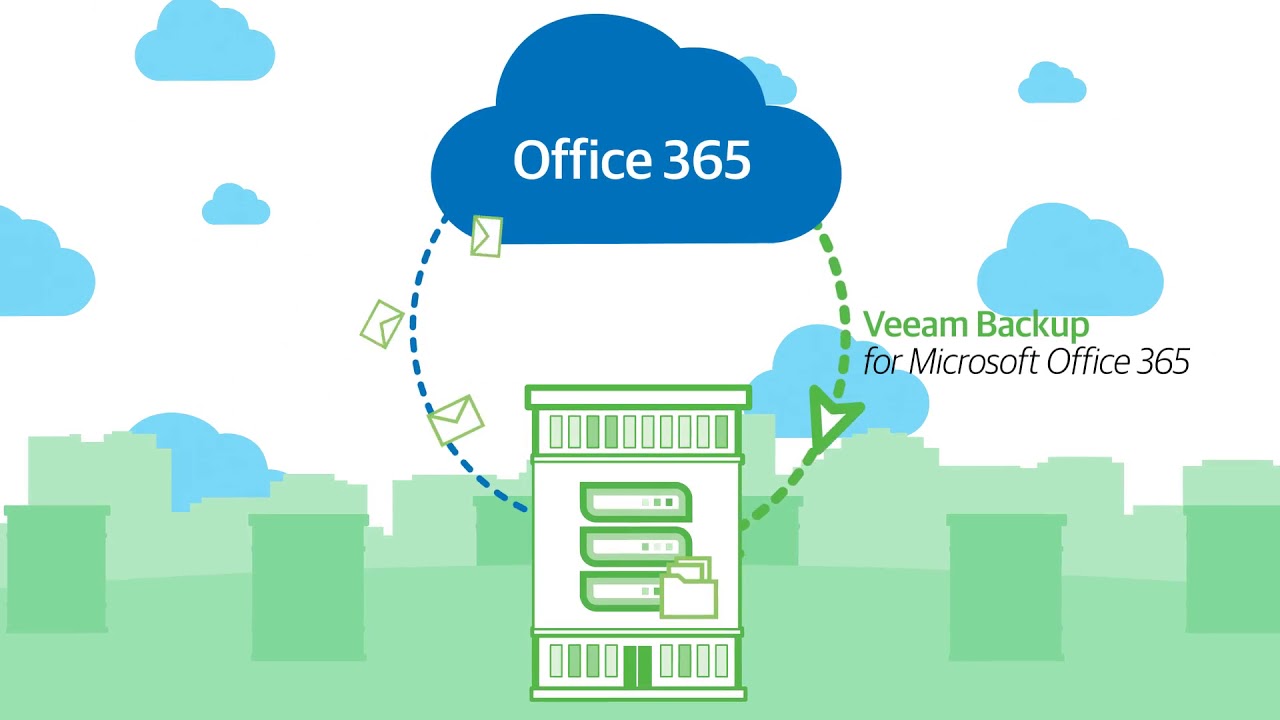 Veeam's Backup for Microsoft Office 365 is the market leader in backup and recovery solutions. A total of 82% of fortune 500 companies trust Veeam, and it spans to Europe the Middle East and Africa. The reasons so many use Veeam is because of its every 5-minute backup storage and its flexible 25 recovery options which allow complete recovery to a micro file level recovery.

Veeam is useful if your organization changes data often and current snapshots. One differentiating feature with Veeam is that you have the option to back up your data either on-prem or in the cloud. Although the initial setup can be complex for hybrid environments customers label Veeam easy to use and quite manageable.


Read our 5-step guide to get the most of out your Microsoft 365 licenses.


Microsoft 365 Backup Solutions Comparison
| | | | | |
| --- | --- | --- | --- | --- |
| | Barracuda | Datto/ Backupfiy | Arcserve | Veeam |
| Backups | Schedule Customizable | Automated 3x/day | Schedule Customizable | Schedule Customizable |
| Cloud or On-Prem | Cloud | Cloud | Cloud | Either |
| Security and Compliance | AES 256-bit encryption | AES 256-bit encryption | AES 256-bit encryption and Sophos Endpoint Protection | AES 256-bit encryption |
| Unlimited Storage | Yes | Yes | Yes | No |
| Microsoft Teams Backup | Yes | Yes | Yes | Yes |
| Support | 24/7 | 24/7 | 24/7 | 24/7 |
Conclusion


Backing up your Microsoft Office 365 data is incredibly important as Microsoft does not take responsibility for any losses when their outages cause you data loss. When choosing a backup solution, your organization has many choices but it is important to make sure that the one you choose has key features such as unlimited storage, security and compliance features, and easy management. My top 4 recommended choices for backup solutions are Datto's Backupify, Barracuda, Veeam, and Arcserve.
Click here to learn how to protect your Microsoft Office 365 data.

For a free consultation on which Microsoft Office 365 backup solution will work best for your organization contact Datalink Networks today.


Contact Datalink Networks