8 min read
Take Complete Control of Your Microsoft 365 with Managed Services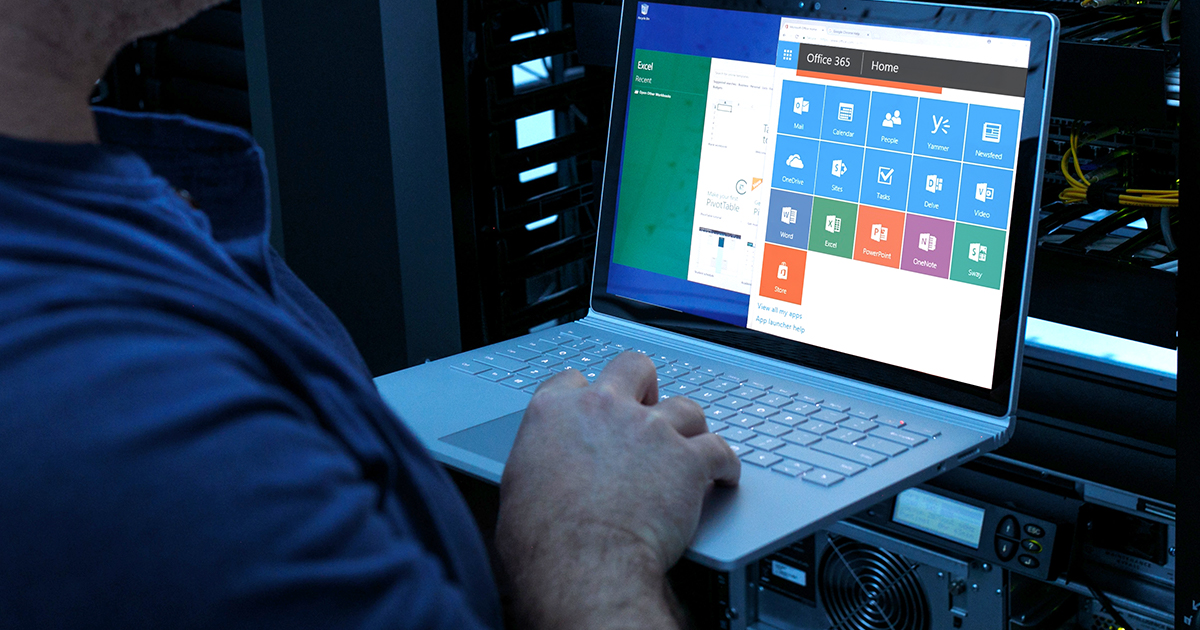 With large volumes of users and organizations utilizing Microsoft 365, there comes the need for IT to manage this environment to meet the specific needs of each organization. From firewalls, to email security you may think your organization has all its security bases covered- but have you considered how to monitor, protect, and optimize your Microsoft Tenant?
Luckily, we have you covered. Learn how to take control of your Microsoft tenant with Microsoft 365 Managed Services. Between the downsides of having an unmanaged tenant and the vast benefits of managing it, you'll wonder why you haven't been using a service like this all along.
Learn about Microsoft Office. Made for achieving!
What are Managed Services?
Often, an organization's in-house IT team is expected to handle daily tasks, manage their IT infrastructure, and plan for long-term IT projects. Even if your business has one or several in house IT technicians on payroll, they are often so bogged down by daily tasks that their talent is wasted.
According to the research group Gartner, over 65% of IT budgets go towards tasks that do nothing more than keep the lights on. Organizations are investing money that isn't improving operations and efficiency, or enhancing security.
Today, Managed Service Providers (MSPs) are being used by businesses everywhere to cost-effectively manage, service, and support their IT processes. MSPs are
often called upon as an alternative to additional in-house staff.
Typically, the MSP will work with your IT team to identify future goals, plan projects, and manage your IT infrastructure to ensure security and best practice. Not only does this allow your internal IT team to focus on core competencies and everyday tasks, it can also provide a variety of other benefits including:
- Improved risk management and security
- Set monthly cost
- Increased reliability
Read Managed IT Services. Understand what are they and why are they beneficial to your organization.
Downsides of Unmanaged Microsoft 365
Organizations often unknowingly lack proper management within their Microsoft 365 tenant. Microsoft's native tenant is not user friendly, offers low visibility, and licensing changes so quickly it becomes a full-time job to stay up-to-date. This creates several issues that many users are simply unaware of including:
Mismanagement of Licenses
Low visibility within the Microsoft 365 tenant is the main reason why there is often a mismanagement of licensing through organizations. Do you know the quantity of licensing that your organization is paying for but are sitting unassigned or inactive? Are you certain that all users with blocked credentials no longer have a license assigned to them?
Many company administrators are unaware of what parts of licensing their employees are using. For example, if an organization is paying for their staff to have Microsoft 365 E5 licensing, a costly SKU, then that admin might assume that all their users are utilizing all or most features included in that license. Unfortunately, while some users adopt these features quickly and use them regularly, other users may only utilize one or two applications. This is called over-licensing and can cost organizations to lose money over time.
Use of Outdated Licenses
When Microsoft changes their licensing tiers, many users tend to stick with the licenses they already have. After maintaining the same licensing over several rounds of changes by Microsoft, you could be paying more for licensing that includes fewer features. With Microsoft offering no tool to help users identify a better replacement for the licensing they currently have, users are often on their own to determine the best solution. It is then up to your IT team to stay on top of new licensing models and implement the changes.
Security and Compliance
Through specific types of Microsoft licensing, including the Microsoft 365 Business plans and a select number of Office 365 E plans, users have access to the Security and Compliance Center. Access to this can help run reports to show your level of compliancy and offer recommendations, which can be useful for organizations that have limited experience or knowledge in compliancy standards.
The downsides associated with this compliance center are 1) only specific licenses have access to this feature and 2) there is no one at Microsoft associated with that account to answer questions, help set up policies, or manage it for your organization. While the idea is sound, unless an organization has resources dedicated to ensuring compliancy without outside help, they will likely remain non-compliant.
Related Blog: How to Protect your Microsoft 365 Data
Benefits of Microsoft 365 Managed Services

24x7 Support & Monitoring
As of October 2020, Microsoft reported to have an average of 115 million daily users. With the quantity of daily users, Microsoft support is limited to support tickets with slow response times.
With Managed Microsoft 365 Services by Datalink Networks you have a dedicated team to support your Microsoft endeavors, answer your questions quickly and accurately, and work alongside you to ensure that your tenant is as clean and efficient as possible. Your organization will receive unlimited 24x7 support including, application assistance and troubleshooting.
Save Money by Optimizing Licensing
After an initial audit and review of your Microsoft Tenant and licensing, your Microsoft MSP will work with you to optimize licensing for your entire organization. Some providers like Datalink Networks, a Microsoft Gold Partner, will even offer discounts on licensing. This will save you money as unassigned and inactive licenses are canceled and newer license SKUs are recommended to decrease cost and increase the number of available features.
This optimization is not a standard, one size fits all solution. Your Microsoft MSP will work with you to ensure the licensing implemented fits your specific organizational needs and price point.
On-Demand Training and Automation
Microsoft 365 Managed Services not only gives you the visibility you need to be able to determine what licensing is assigned and what features are being used, but it also gives you the ability to address potential issues. If you have users who are not utilizing specific features of their licensing, on-demand training can be automated to drive adoption.
Other training features available through Microsoft Managed Services are training videos and curated learning paths. Training videos can be integrated into any Microsoft application, such as Teams, so users can look for a solution as questions arise without leaving the application. Curated learning paths are also available for users who need a more holistic approach to learning a platform or feature.
Along with automated adoption campaigns, your admin can save time with other business processes automation. Your Microsoft Managed Service Provider will set up automated processes to improve productivity with tasks like provisioning and deprovisioning users or removing licenses from users with blocked credentials.
Improve Security and Meet Compliancy Standards
Included in the initial audit of your Microsoft Tenant is a review of your organization's current security settings such as Multifactor Authentication, strong password policies, users with access to an excessive number of mailboxes, and more. Recommendations for these security settings will be made based off of best practice and required compliancy standards such as HIPAA, PCI DSS, and NIST
Your Microsoft 365 Managed Services also includes 24x7 monitoring and a variety of reports to ensure security within your tenant. For example, high-risk users, like the CIO or others with administrative rights, can be separated into virtual tenants away from the rest of the user to ensure security within the environment. Additionally, reports will be run and delivered to you on a scheduled cadence regarding the various security aspects of your tenant.
Learn more about Managed Service Providers. Your IT Team's new best friend!
Conclusion
Outsourcing parts or all of your IT responsibilities to a managed service provider allows your internal IT team to focus on their core competencies. Microsoft 365 Managed Services takes the responsibility of monitoring and improving your tenant security and optimizing organizational costs.
Microsoft 365 Managed Services takes the pressure off your internal IT team while saving money through license optimization, saving time through business processes automation, improving security, meeting compliancy standards, and offering complete protection with 24x7 monitoring and support.
Blog post: Spearphishing on the Rise in Office 365 Cloud Services.
Request more information on our Managed Microsoft 365 services by contacting us today
Contact Datalink Networks