The risk of cyber criminals is no match for the danger of human error.
According to a 2018 State of the Industry Report conducted by the document security company ShredIt, employee error accounted for a whopping 71% of data breaches reported by surveyed small and medium sized businesses (SMBs).
Unfortunately, employees tend to take cyber security requirements too lightly, and their organizations don't spend enough time educating them on its importance. Untrained employees ultimately become one of the biggest security vulnerabilities to every organization's cyber safety.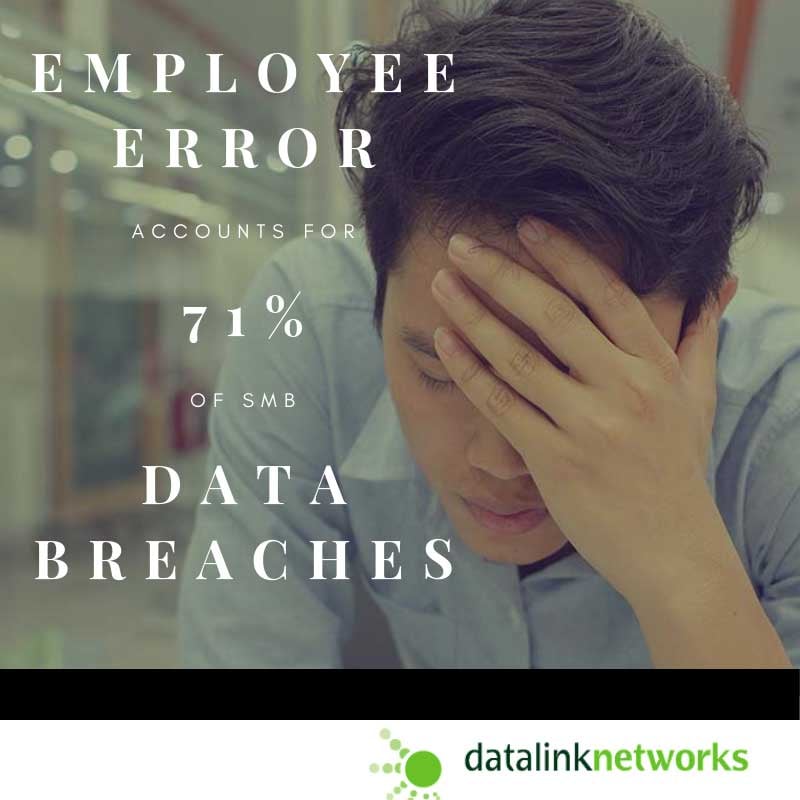 Employee error can arise in many forms. Whether it be clicking an unfamiliar link, accidentally downloading ransomware or interacting with malicious emails, it is important that every organization is prepared to prevent and remediate potential damage.
A client of ours in the hospitality industry fell victim to business email compromise (BEC) as a result of an employee overlooking a potential security risk. While the company's CEO was out of the country, an employee received an email from a spoofed account requesting a large money transfer. Without hesitation, the employee sent over company funds, under the impression that the CEO would be receiving it.
Unfortunately, this company never got their money returned. However, after the attack, the company's IT Manager reached out looking for recommendations to localize these malicious emails and educate employees on security protocols. Datalink Networks' expert engineers have the ability to scan the active directory for threats, suggest a security plan, and help implement top of the line security products.
Organizations, both large and small, regularly get caught in this trap, as illustrated in this 2018 Barracuda Networks White Paper: Phishing attacks infected the systems of nearly 30% of the organizations that Barracuda surveyed. An additional 18% of the organizations were victims of CEO Fraud or BEC.
Eliminate your company's risk of experiencing these damaging cyber-attacks.
As a leading managed service provider specializing in managed security, our prevention recommendations are:
Datalink Networks' expert support is your first step in adopting a stronger security plan. There can never be too much preparation. Ensure your organization's cyber safety by eliminating employee risk and getting the necessary equipment.
Gain intelligence. Buy products. Get secure.