23 min read
Microsoft 365 101: The Ultimate Guide to Microsoft Office 365 Licensing - 2023 Update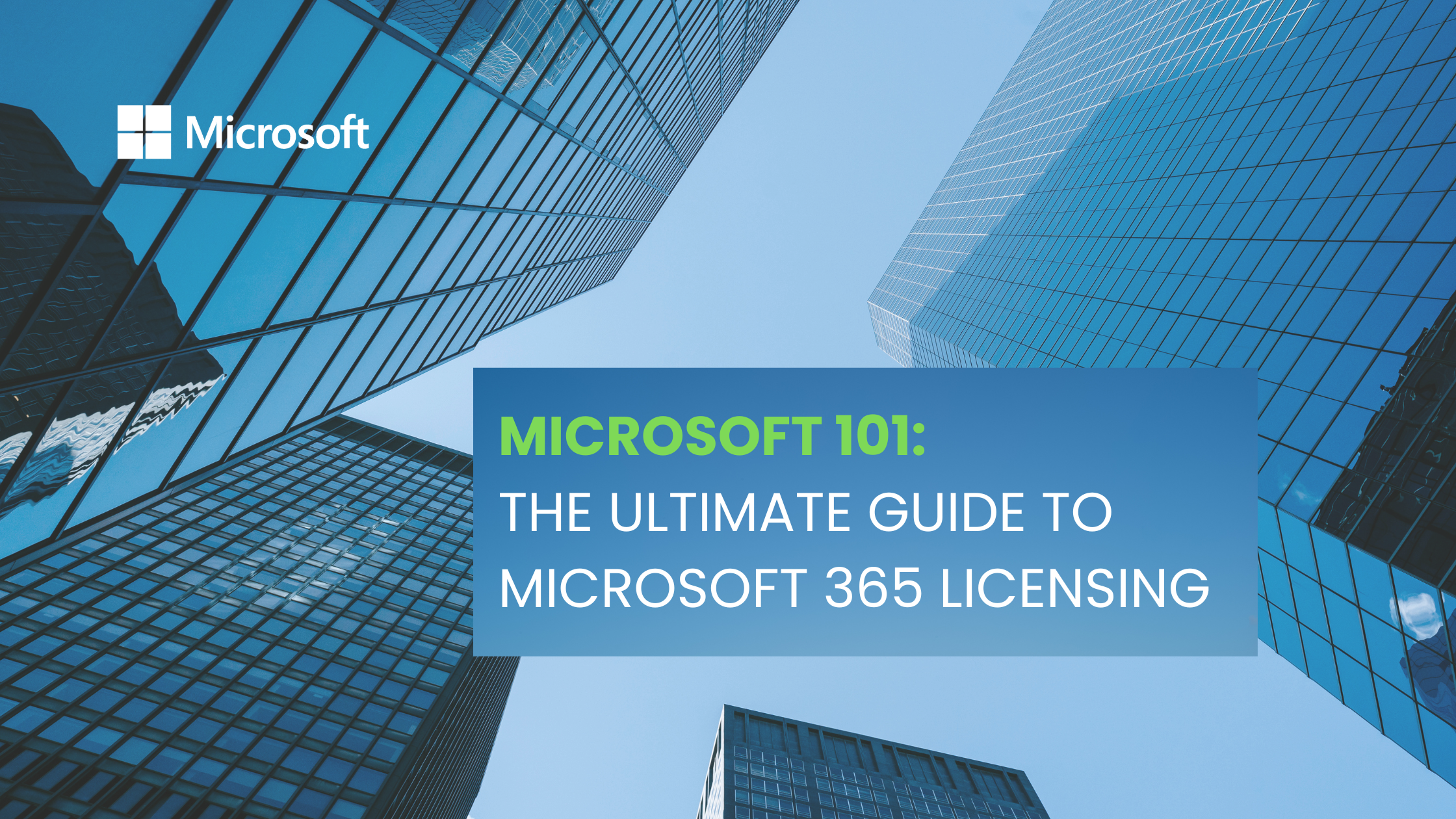 Microsoft 365 is one of the most well-known cloud and productivity solutions on the market. In 2021, Microsoft reported that "the number of Microsoft 365 subscribers has increased to 50.2 million". For many organizations that are considering a move to the cloud, Microsoft 365 is the obvious place to start. Continue reading for more information on Microsoft 365 licensing and benefits it can have on your organization.

Why Your Organization Needs Microsoft 365


Microsoft 365 offers a suite of powerful tools that can help your organization increase productivity, streamline communication, and reduce costs. One of the biggest advantages of Microsoft 365 is its cloud-based platform, which allows you to access your applications and data from anywhere with an internet connection.

Another benefit of Microsoft 365 is its collaboration features. With tools like Teams and SharePoint, you can work together seamlessly with colleagues both in-office and remote. This not only improves teamwork but also saves time on meetings as it allows real-time communication between team members.
Migrate to Microsoft today with Datalink Networks!

Security is another major concern for organizations nowadays due to increasing cyber attacks. With Microsoft 365's security features such as multi-factor authentication, advanced threat protection (ATP), data loss prevention (DLP) policies among others, businesses can be assured their sensitive information will remain safe from unauthorized access or breaches.

Moreover, migrating to Microsoft 365 eliminates the need for multiple software subscriptions saving companies money per user per month that would have been spent on other programs! By consolidating all these essential business functions under one roof simplifies tasks while reducing errors making day-to-day operations much smoother!


Microsoft 365 vs. Office 2021


The confusion between the Microsoft 365 bundle and the Office 365 bundle can be traced back to 2017, when Microsoft announced Microsoft 365 as a new productivity bundle geared towards businesses. The confusion increased as people learned that Microsoft 365 actually included Office 365. Further confusion surfaced as people learned that Office 365 is now called Microsoft 365. To end the confusion once and for all here is an overview of both Microsoft 365 and Office 2021.


What is Office 2021?


Office 2021 is a cloud-based suite of apps centered around business productivity. Within this license SKU, customers will receive Office Apps like Excel, Word, and PowerPoint. Unlike the other subscription license models, Office 2021 is sold as a one-time purchase that is available for both PC's and Macs.
The main caveat to this license is that there are no upgrades included with your purchase which means that if a new version of the software rolls out, you will have to purchase the license at full price again.
What is Microsoft 365?


Microsoft 365 is the Microsoft Office Suite and/or email in the cloud. We're referring to the cloud-enabled versions of Microsoft Office productivity applications, plus email and additional online services for both home and business. All Microsoft 365 plans are paid for on a subscription basis. Microsoft 365 for Business plans include various combinations of popular Microsoft Office applications, as well as other online services.
Learn more about how get the most of out your Microsoft 365 licenses.


Changes to Office 365 - 2023 UPDATE

As technology continues to advance, Microsoft is constantly working to improve its Office 365 suite. With the new year just around the corner, there are exciting changes coming to Office 365 in 2023 that will enhance productivity and improve user experience. From a new app release to retirement of old features, this blog post covers all the important changes you can expect from Office 365 next year. So sit back and read on for everything you need to know about the upcoming transformations!


Microsoft 365 app coming in January 2023


In January 2023, Microsoft released a new app that promises to improve the overall experience of Office 365 users. The new app is called Microsoft 365 and it offers a range of features that make it easier for users to access their documents, emails, and other files.

One of the key advantages of the Microsoft 365 app is its streamlined interface. It presents all your tools in one place, making it easy to navigate between different applications without having multiple windows open at once. Additionally, you have access to advanced search capabilities that allow you to quickly find any file or document within seconds.

Another advantage offered by this new application is its collaboration feature which allows team members working on shared documents or projects from different devices and locations – desktops, laptops or mobile -to collaborate seamlessly using real-time updates.

The introduction of Microsoft 365 marks an exciting change in how we use Office 365 applications and brings us closer towards achieving seamless productivity across our digital platforms.


Microsoft Teams Flyout Enhancements


Microsoft Teams Flyout Enhancements are set to launch in 2023, and they promise to improve the user experience for Teams users. With these enhancements, users will be able to access more features without leaving their current screen. This means that multitasking will be even easier than before!

One of the most exciting features of Microsoft Teams Flyout Enhancements is the ability to start a new conversation from anywhere in the app. This means that you can quickly send a message or start a video call with your team members without having to navigate through different screens.

Additionally, Microsoft Teams Flyout Enhancements will also allow users to see more information about their contacts directly from the flyout menu. You'll be able to view their availability status, recent activity and contact details all in one place.

Another useful feature is that you'll be able to manage your notifications from within the flyout menu as well. You can choose which notifications you want to receive and how often you want them delivered.

These enhancements are going make using Microsoft Teams even smoother and more efficient than it already is!


Video Filters in Teams Meetings


One exciting change coming to Office 365 in 2023 is the addition of video filters in Teams meetings. This feature allows users to personalize their video calls by adding various filters such as sepia, sketch, and even custom backgrounds.

With more people working remotely than ever before, it's important for virtual meetings to feel engaging and interactive. Video filters can help break up the monotony of staring at a screen all day while also allowing individuals to express themselves creatively.

In addition, this feature can also come in handy during presentations or webinars where visual aids are key. Adding a filter can draw attention to specific points on a slide or simply make the presentation more visually appealing.

Video filters are an exciting addition that will enhance the user experience for those using Teams for virtual meetings or presentations.


Wiki retirement and the future of note taking in Teams Channels


In January 2023, Microsoft will retire the Wiki feature in Teams channels. This change has sparked some concern among users who have grown accustomed to using the Wiki for note-taking and collaboration within their Teams channels.

However, fear not, as Microsoft is already working on a new solution that will replace the Wiki. In fact, they have already released a preview of this new feature called "Fluid Components". The Fluid Framework allows for real-time co-authoring across apps and services without having to switch between them.

This means that instead of relying solely on a single Wiki document for note-taking, team members will be able to collaborate on multiple documents at once using Fluid components. These components can be embedded into Teams conversations or other Office apps like Word and Outlook.

The future of note-taking in Teams Channels looks promising with the introduction of Fluid Components. It provides an easy way for teams to work collaboratively while maintaining productivity by allowing seamless integration with other Office apps.

In addition to this new feature replacement, there are also many third-party applications available that integrate seamlessly with Teams such as Evernote or OneNote which provide more extensive note-taking capabilities beyond what was offered by the retired wiki function.


Microsoft 365 ends for Windows 8.1


If you're a Windows 8.1 user and rely on Microsoft 365, it's time to upgrade your operating system. Starting in January 2023, Microsoft will no longer support Microsoft 365 on Windows 8.1 devices.

This means that if you continue using Microsoft 365 on a Windows 8.1 device after the end of support date, you may experience compatibility issues or security vulnerabilities that could compromise your data and personal information.

To avoid these risks, it's recommended that you upgrade to Windows 10 or later before January 2023. Upgrading to the latest version of Windows not only ensures continued access to important software like Microsoft Office applications but also provides enhanced features and security updates for an improved user experience.

While upgrading may seem like a daunting task for some users, there are many resources available from both Microsoft and third-party providers that can help make the transition smoother. Don't wait until it's too late - start planning your upgrade today to ensure uninterrupted access to essential productivity tools with Microsoft 365!


Windows 8.1 ends


Microsoft has announced that it will no longer support Windows 8.1 starting in January 2023. This means that customers who continue to use the operating system beyond this date will not receive security updates, bug fixes, or technical support from Microsoft.

While Windows 8.1 was a significant improvement over its predecessor, it failed to gain widespread adoption due to its controversial interface changes and lack of compatibility with certain hardware devices and software applications.

If you're currently using Windows 8.1 on your computer or device, you'll need to consider upgrading to a newer version of Windows before the end-of-support deadline in order to keep your data safe and secure.

Fortunately, Microsoft provides several options for upgrading your operating system, including purchasing a new computer with pre-installed software or downloading and installing an upgrade directly from their website.

Whatever option you choose, be sure to back up all important files and documents beforehand so that you don't lose any data during the transition process.


OneDrive attachments changing


OneDrive is a popular cloud-based storage solution that allows users to store and share files with ease. In 2023, Microsoft has announced some changes to OneDrive attachments that will impact how users work with their files.

The new update is set to change the way in which OneDrive links are shared via email. Instead of attaching a file directly, OneDrive attachments will now be replaced by sharing links to specific documents or folders stored on OneDrive.

This change means that when someone shares a file through email using OneDrive, it won't create another copy of the document but rather attach a link as an alternative. This will significantly reduce duplicate copies of files being created across different platforms and improve overall efficiency for users working within Microsoft 365.

For instance, if you want to send out multiple emails containing the same attachment, it can take up valuable space in your mailbox causing unnecessary clutter. By sending out one link instead, it drastically reduces the need for multiple copies being sent around leading towards better collaboration between teams.


Extra OneDrive storage for Microsoft 365 customers


Microsoft is making some changes to Office 365 in 2023, and one of the most exciting updates for Microsoft 365 customers is the extra OneDrive storage. This update will be welcomed by those who use OneDrive frequently and need more space to store their files.

With this update, Microsoft 365 customers will receive an additional 1 terabyte of storage space on OneDrive. That's a substantial amount of extra storage that can be used to save documents, photos, videos and other important files.

This new feature will help users work more efficiently without worrying about running out of space or having to delete important files they may need later. Additionally, having access to more storage means that users can store larger file sizes with ease.

It's always reassuring when a company makes upgrades that show they value their customers' needs. The fact that Microsoft has added this extra storage shows they are committed to providing excellent products and services for their customers.

The extra OneDrive storage for Microsoft 365 customers is a much-needed addition that many people will appreciate. With so much data being created every day, it's essential to have enough space available to store all your important files securely - now you'll have even more room!


Office 2013 ending


Microsoft has announced that Office 2013 will be ending its support on April 11, 2023. This means that after this date, users of Office 2013 will no longer receive security updates or bug fixes.

It is important for businesses and individuals who are currently using Office 2013 to start planning their transition to a newer version of Microsoft's productivity suite before the end of support date. Failure to do so may put them at risk of cyber attacks and other security vulnerabilities.

Fortunately, Microsoft offers several options for upgrading to newer versions of Office such as buying a new license outright or subscribing to Microsoft 365 which includes all the latest features and updates.

Users who prefer not to upgrade can still continue using Office 2013 but they should be aware that it will become increasingly vulnerable over time as new threats emerge in the digital landscape.

While it may seem like an inconvenience for some, it is essential for users still running on Office 2013 to plan their migration strategy carefully in order to avoid any potential risks associated with outdated software.


Wolfram data types 11 June


On June 11th, 2023, Microsoft will be introducing Wolfram data types to Office 365. This new feature will enable users to work with complex computations and formulas in a more streamlined manner within their documents.

Wolfram data types are designed to simplify the process of working with mathematical and scientific equations by providing a framework for organizing and manipulating different types of data. This includes everything from basic arithmetic operations to advanced calculus functions.

One of the key benefits of this new feature is its ability to help users save time when performing complex calculations. For example, it can automatically recognize certain patterns or structures in your data and suggest appropriate formulas or methods for processing them.

Additionally, the Wolfram language that powers these new data types has an expansive library of built-in functions that can perform tasks such as solving differential equations or generating graphs from raw data sets.

This update promises to make Office 365 even more powerful for researchers, scientists, mathematicians and anyone else who relies on precise calculations in their work.


Excel Money Template ends


Microsoft has announced that it will be ending support for the Excel Money Template by October 2023. This decision affects all Microsoft Office 365 customers who use this template to manage their personal finances.

The Excel Money Template is a popular tool used to track expenses, income, and budgeting. It's customizable features allow users to tailor it according to their needs. However, with this announcement from Microsoft, users must start thinking of alternatives before the deadline arrives.

For those who rely on the Excel Money Template for their financial tracking needs, there are alternative tools available in the market such as Quicken and Mint.com among others. While these alternatives may not offer the same level of customization as Microsoft's template does, they still provide robust financial management capabilities.

It's important for individuals and businesses alike to stay updated on changes happening within software applications like Office 365 since they directly impact day-to-day operations. The discontinuation of Excel Money Templates comes as part of an effort by Microsoft towards consolidating its offerings while continuously upgrading its services elsewhere in response to user feedback and ever-changing digital demands.


Microsoft Partner Benefits


Microsoft Partner Benefits are a set of perks and incentives that Microsoft offers to its partners who resell or recommend Office 365 and other Microsoft products. These benefits include access to tools, training, support, marketing resources, and discounts on software licenses.

One of the most significant benefits of being a Microsoft partner is the ability to offer co-branded solutions with Microsoft. Partners can use their own branding alongside Microsoft's logos in sales pitches and marketing materials. This gives them credibility in the market and helps them stand out from competitors.

Another benefit is access to exclusive technical support from Microsoft experts. Partners can also take advantage of training programs such as webinars, workshops, online courses and certifications that help them stay up-to-date with the latest technology trends.

In addition to these benefits, partners can also get discounted pricing on licenses for various products like Windows 10 Enterprise E3/E5 or Office Professional Plus. They may also be eligible for additional incentives based on their performance levels like revenue growth or customer satisfaction scores.

Being a Microsoft partner provides many opportunities for businesses looking to expand their reach in the tech industry. With access to a wide range of resources and support, it's no wonder why so many choose this path towards success!


Meeting Recap on Outlook on the web


Outlook on the web is a popular tool for scheduling and conducting meetings. However, there are times when attendees may miss some of the important details discussed during these meetings. That's where Meeting Recap comes in.

Meeting Recap is a feature within Outlook on the web that automatically sends a recap email to all attendees after the meeting has ended. This email includes a summary of what was discussed, any action items assigned, and links to any important documents or resources shared during the meeting.

This feature is particularly useful for those who were unable to attend due to conflicting schedules or other reasons. It allows them to stay up-to-date with what was covered in the meeting without having to rely on second-hand information from colleagues.

Additionally, Meeting Recap can also be valuable for those who did attend but may have missed certain points or details. Instead of frantically taking notes and trying not to miss anything while participating in the discussion, they can focus their attention on actively engaging and then refer back to the recap email later if needed.

In short, Meeting Recap helps ensure that everyone stays informed about what happened during a meeting so they can follow up accordingly and stay productive.


IPv6 coming to Azure AD
IPv6 coming to Azure AD is exciting news for Office 365 users, as it will bring a host of benefits and improvements. The newer version of the Internet Protocol (IPv6) offers better security, improved network performance, and increased capacity compared to its predecessor IPv4.

With IPv6 support in Azure AD, businesses can enjoy faster connections and reduced latency when accessing cloud applications. It also provides more efficient routing over the internet with better end-to-end connectivity between devices.

Azure AD's existing features such as conditional access policies can be enhanced with IPv6 support by enabling administrators to apply policy settings based on IP address version. This feature ensures that only authorized devices are allowed access, leading to tighter security control of company data.

In summary, the introduction of IPv6 in Azure AD marks another step forward in Microsoft's commitment towards improving user experience while providing world-class security measures. With this update comes an array of possibilities that benefit both IT teams and end-users alike - making for a more seamless online experience across all connected devices.


External File Request in SharePoint Document Library


As we have seen, Microsoft Office 365 is constantly evolving and improving to better meet the needs of its users. From new app releases to feature upgrades in Teams Meetings, OneDrive, and Outlook on the web, there are a lot of exciting changes coming in 2023.

One such change is the introduction of external file request in SharePoint Document Library. This feature will allow users to easily send a request for files that are not already stored within their organization's SharePoint site. With this improvement, collaborating with partners or vendors becomes more seamless and efficient than ever before.

As always with Microsoft products, these updates can take some time getting used to. But with training resources available through both online tutorials and dedicated support teams from Microsoft Partners like us here at [Company Name], your team will be up-to-speed on all the latest features quickly.

We hope this overview has given you an idea of what changes you can expect as we move towards 2023 with Office 365. At [Company Name], we're excited about these advancements and look forward to helping our clients make full use of them for greater productivity and success.
Compare Microsoft 365 Subscription with Office 2021
| | | |
| --- | --- | --- |
| | Office 2021- One Time Purchase | Microsoft 365 Subscription - Monthly Subscription |
| Cost | Pay a single one-time cost | Pay monthly fee or save by paying for annual subscription |
| Office Applications | Get Office apps like Excel, Word, and PowerPoint | Get the latest Office Apps and receive upgrades on standard and security features |
| Feature Updates | Upgrades are not included in this license | Always receive the latest features and updates as well as bug fixes and security upgrades. |
Types of Microsoft 365 License Agreements
Microsoft Open Licensing
Designed primarily for small-to-medium organizations, Open Programs allows customers to acquire perpetual or subscription licenses and, at the customer's election, rights to future versions of software products over a specified time period. Open Programs have several variations to fit customers' diverse ways of purchasing. Under the Open License Program, customers can acquire licenses only or licenses with software assurance. They can also renew software assurance upon the expiration of existing volume licensing agreements.
Microsoft Cloud Agreement
This type of agreement is designed for transactional licensing for commercial, government, and academic organizations with one or more users/devices seeking to fully outsource the management of their cloud services through CSP. CSPs offer an easy way to license the cloud services you need through the Microsoft Cloud Agreement in combination with the value-added services offered by your systems integrator, hosting partner, or born-in-the cloud reseller partner.
Microsoft Service Provider Licensing Agreement (SPLA)
The Microsoft Services Provider License Agreement (SPLA) is a program targeted to service providers and independent software vendors (ISVs) allowing these partners to provide software services and hosted applications to their end customers. Agreements are generally structured with a three-year term and partners are billed monthly based on consumption.
Microsoft Enterprise Agreement Licensing (EA)
Enterprise agreements are targeted at medium and large organizations that want to acquire licenses to Online services and/or software products, along with software assurance, for all or substantial parts of their enterprise. Enterprises can elect to either acquire perpetual licenses or select non-perpetual licenses under the Enterprise Subscription Program.
Microsoft 365 License Guide
Now that you have a brief understanding of the different types of license agreements, lets dive into the types of licenses that fall within the Microsoft 365 category starting with Microsoft 365 Business and then moving on to Microsoft 365 Enterprise.
Microsoft 365 Business License
License Type

Pricing

Features

Microsoft 365 Business Basic

$6.00 per user/per month

Includes web and mobile versions of Outlook, Word, PowerPoint, Excel, and OneNote. Host email with a 50 GB mailbox

Microsoft 365 Business Standard

$12.50 per user/ per month

Includes desktop versions of Office apps for PC and Mac. Also includes the Microsoft bookings feature to manage your business.

Microsoft 365 Business Premium

$22.00 per user/ per month

Includes advanced security features not included in other license sku's. Also includes device management features to let you automatically deploy Office apps to Windows 11 or 10 PCs.

Microsoft 365 Apps for business (add-on)

$8.25 per user/ per month

- Desktop versions of Microsoft 365 apps with premium features
- 1 TB of cloud storage per user
- Standard security
Anytime phone and web support
Note: Each license type listed above is available for annual subscription and autorenewals
Optional Additional Add-ons for Microsoft 365
Audio Conferencing: Gain the ability to join a Microsoft Teams meeting on the go, without an internet connection

Business Voice: Add Microsoft Teams phone, a cloud-based phone system with advanced features including call transfer, multilevel auto attendants, and call queues

Windows 365: Securely stream your Windows experience - including apps, content, and settings- from the Microsoft Cloud to any device
See how to take complete control of your Microsoft 365 with Managed Services.
Microsoft 365 Enterprise
| | | |
| --- | --- | --- |
| License Type | Pricing | Features |
| Microsoft 365 E3 | $32.00 per user/ per month | Receive all Microsoft 365 apps combined with core security and compliance capabilities for your enterprise. |
| Microsoft 365 E5 | $57.00 per user/ per month | Gain Azure Active Directory Premium Plan and advanced analytical tools like Power BI Pro |
| Microsoft 365 F3 | $8.00 per user/ per month | Formerly known as Microsoft 365 F1. Receive productivity apps and cloud services that allow them to do their best work. |
What are the benefits of Microsoft 365?


Microsoft 365 is the office productivity suite that is most utilized by small to medium businesses and enterprises worldwide. Listed below are the benefits of Microsoft 365:
Cost Savings: Microsoft 365 is a bundled cloud service and costs less than typical on-premise solutions

Security: Microsoft has placed a great amount of focus on the security of its software applications

Minimal Maintenance: Through automatic updates and upgrades there is very minimal maintenance that your IT admin will have to do to maintain your licenses

Mobile Compatibility: Microsoft 365 gives users access to their applications from any device connected to the internet

Solutions Integrations: Through seamless integrations, Microsoft 365 can be used on any users devices

User Community: Microsoft 365 had a large user community, so information on best practices is only a web search away.


See our article about best Microsoft Office 365 backup solutions comparison guide [2021].
Why You Should Work With a Microsoft Solutions Partner


Microsoft Office 2023 and the new products it brings are sure to revolutionize the way we work. From improved security features to streamlined user experiences, this latest release is set to make our working lives more efficient than ever before.

However, if you want to get the most out of these exciting updates, it's crucial that you work with a Microsoft Solutions Partner. These experts will have an in-depth knowledge of both Azure and Azure Lighthouse and can help ensure that your organization is fully prepared for all of the changes coming its way.

By partnering with such a company, you'll be able to take advantage of customized solutions tailored specifically for your business needs. Plus, they'll provide ongoing support long after implementation has taken place.

So don't wait - start exploring what a Microsoft Solutions Partner can do for your organization today!


A Managed Service Provider Will Save You Money and Improve Efficiency


Partnering with a managed service provider (MSP) to manage your organization's Microsoft 365 needs is not only a smart choice, but it could also save you money and improve efficiency.

Firstly, MSPs offer cost-effective solutions for managing your technology. They provide flexible pricing plans that can be customized according to your specific business requirements. This means that you'll only pay for the services that you need and nothing more.

Secondly, by outsourcing your Microsoft 365 management tasks to an MSP, you free up valuable time and resources within your organization. You no longer have to worry about hiring IT staff or training existing employees on how to manage the software since the MSP takes care of everything from installation and updates to troubleshooting issues.

Moreover, MSPs are experts in their field and use industry best practices when managing their clients' technology. They have access to the latest tools, technologies, and security measures which ensures optimal performance of Microsoft 365 while reducing downtime due to technical issues.

Partnering with an experienced MSP can help organizations streamline their operations by providing cost-effective solutions while improving overall efficiency. With reduced costs and increased productivity comes growth opportunities for businesses looking towards long-term success.


Next Steps? Contact Datalink Networks


Begin your journey to the cloud by contacting Datalink Networks today. As a dedicated Microsoft gold partner, Datalink Networks can work with you to ensure your organization is maximizing your Microsoft investment by auditing your Microsoft 365 tenant and optimizing your environment. Contact us today to get started transforming your cloud environment!
Contact Datalink Networks